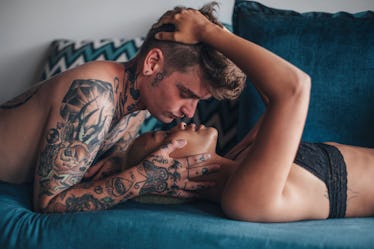 10 Ways To Put The Spark Back Into Your Long-Term Relationship Without Blowing Your Budget
No matter how into each other a couple is, there will be times (if they stay together long-term) that the spark will fade a bit. It's not that the love goes away, but the excitement and sexual chemistry can fade. The good news is, it doesn't have to! You can reignite those feelings with a little effort. Fortunately, this homework is a lot of fun — and it doesn't have to break the bank. There are plenty of cheap ways put the spark back in your LTR, it just takes a little creativity and the desire to... well... bring back the desire!
When coming up with fun ways to reignite the passion, it's all about getting back to the basics of when you first met — when things were light, and fun, and full of possibility. Think of activities that will break you out of a rut — so, like, no movie marathons or going to your favorite brunch spot. No, this is about trying new things that will remind you of how you felt about your partner when your relationship was brand new. Need a little inspiration? Well then, here are some sexy ideas of things you and boo can do this weekend (or maybe even tonight) to help you get your relationship mojo back.