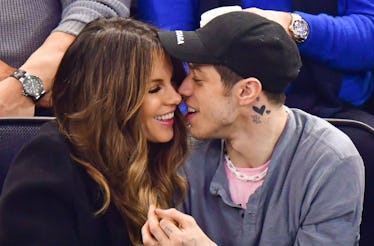 10 Celeb Couples With 10-Year & Over Age Gaps That You'll Want To Insta-Stalk Immediately
If you've ever filled out a dating profile — and in 2019, who hasn't? — then you probably already have a fairly good idea of your own personal dating age range. Do you max out at five years difference? 10? Or maybe you are open to folks from a different generation entirely. If so, then you share you open mindedness with some of the celeb couples with 10-year and over age gaps.
While Pete Davidson and Kate Beckinsale, with their 20 year age difference and full-on PDA, are currently getting all the headlines, they are really just the latest A-listers to show the world that age ain't nothing but a number (over 18 years old, obviously). The two reportedly met and hit it off instantly at the Golden Globes party. They were soon spotted holding hands leaving one of Davidson's comedy shows, sparking more rumors of their surprising but adorable romance. They seemingly confirmed the romance with a PDA-filled visit to a Rangers hockey game and then, over the weekend, their relationship, specifically their age gap, came up on an episode of SNL and Davidson shut down the haters in hilarious fashion by pointing out the hypocrisy of fixating on his relationship when, frankly, it's basically a Hollywood tradition to date folks quite a bit older or younger than you.
I mean is it really all that surprising that this happens — a lot? Afterall, when you put this many beautiful, ageless people together, it's basically bound to happen. So, in that spirit, let's celebrate some celebrity age gap love by taking a look at some star couples with age differences that really are just a great reminder that love truly is love.