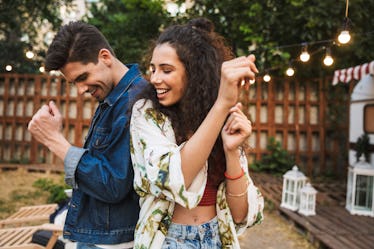 10 TikTok Dance Challenges For Couples Who Are On The Same Beat
Shutterstock
TikTok and dance challenges go together like you and bae. They just make sense and instantly put a smile on your face. You probably send TikTok videos you think are super cute to your partner daily. Now is the time to try some for yourself by accepting a few of these TikTok dance challenges for couples. It's a lot easier to get in the groove and have fun when you have the best dance partner by your side.
If you're ever looking to be inspired, you might want to follow a few couples who like to dance on TikTok together. A great place to start is with So You Think You Can Dance alums, Stephen "tWitch" Boss and Allison Holker Boss. They're always trying the latest dance trends, and look super adorable while moving to the beat. Follow their lead, and add any of these dance challenges for couples to your to-do list ASAP.
Of course, you might need a little practice to get every single move down for some of these, but that's what's so great about doing this with your SO. They're there to cheer you on and make the whole process super fun. By the end, you might feel like pros who are ready to hit the dance floor whenever.