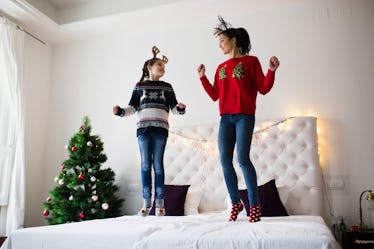 10 Best Plans For The Cool Aunt To Make With Her Favorite Kids Over Christmas Break
Christmas is a time when loved ones come together, and you're reunited with extended family members you might not have seen since last year. If you're an aunt with a bunch of little nieces and nephews, Christmas might be the one time of year when you have them all together in one place. You want to make your time with them truly special, so here are some of the best holiday plans for the cool aunt to make with her favorite kids.
The kids know that they have family obligations with their parents, but when they hang out with you, they know that they're in for a real treat. (Let's be honest: You're probably the aunt who lets the kids sneak some pumpkin pie before dinner is served, and you always hook them up with the best presents ever.) They love you endlessly, and want to spend as much time as possible with you this holiday season, so you'll need some fun activities planned to keep them occupied.
From gingerbread house making and Christmas tree decorating, to tacky Christmas pajama sleepovers and festive movie marathons, here is everything you should do with your nieces and nephews this season. Happy holidays!