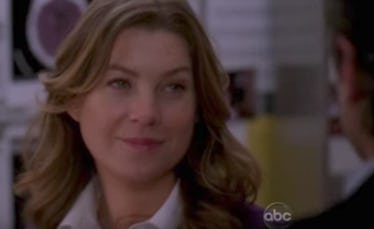 10 Magical 'Grey's Anatomy' Moments That Give Us All Hope That Love Isn't Dead
Oh, Grey's Anatomy. Or, shall I say... oh, Shonda. Grey's is the epic kind of TV show that draws you in without you even knowing it. One moment, you begin streaming the first season, and the next, you truly don't know what day it is, but also, you don't really care. All that matters is Meredith Grey and Derek Shepherd, dammit. Welcome to the Grey's Anatomy fandom. The show brings on all the feels — so many, in fact, that watching an episode of the show is like going on a 45-minute roller coaster ride of emotions. The best Grey's Anatomy moments have made us cry and laugh uncontrollably. The show has also made all of us hopeless romantics out there believe in love.
Between all of the drama, breakups, and make-ups, the show has a few really special moments that (besides making us cry into our pillows a bit) sparked a new feeling of "is this what love really looks like?!" And OK, maybe it is a TV show, but it's a really good one, and a girl can dream for a McSteamy or a McDreamy in her life, amiright?
You can't even begin to count the number of breathtakingly romantic moments in all of Grey's, but you can try to appreciate them. In no particular order (because ranking would be much, much more difficult), here are 10 of the most magical Grey's Anatomy moments, especially for the hopeless romantic in us all.