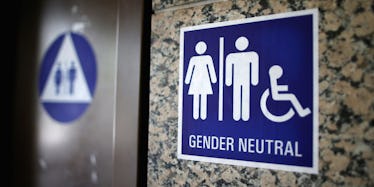 Yale Just Raised The Bar For Transgender Rights With Gender-Neutral Bathrooms
REUTERS
In the middle of a national debate over who exactly can use the restroom where, Yale University's entered the fray, announcing 332 gender-neutral bathrooms across the university's campus in time for its commencement.
The move is apparently the latest by the university to become more welcoming and inclusive to the LGBTQ+ community. In the last year, the university's changed many of its policies that were restrictive for transgender students.
Now, transgender students can receive diplomas with their chosen names as opposed to the names on their birth certificates, according to ABC News.
Yale also started using students' preferred pronouns and allowing them to change their names on their ID cards without cost, according to the Associated Press. The school will also reportedly cover the costs of gender reassignment surgery under the student health plan.
Tamar Gendler, dean of Yale's Faculty of Arts and Sciences, said,
Yale aims to be a leader on this front. Part of what is important about the all-gender bathroom project and about putting it at the top of our commencement site, is this is about public signaling.
Given all of the controversy over North Carolina's HB 2 bill, aka the bathroom bill -- protests, lawsuits, cancellations of concerts by Bruce Springsteen, Nick Jonas and Demi Lovato and a statement from Beyoncé  --  this is a seriously bold move.
As is almost always the case with bold moves, it's inspired passionate responses across the Internet for and against the new policies.
Though some people aren't happy about the decision, it cannot be argued these policies make Yale one of the most progressive campuses in the US in this regard.
Rebby Kern, programs manager at Campus Pride, a nonprofit that tracks LGBT rights on campuses nationwide, told the Associated Press.
Yale's programs policies and practices are very much what LGBT inclusion looks like for students on a campus.
Is this a step in the right direction for Yale, or did the university overstep its boundaries with this mandate for gender-neutral bathrooms?
Let us know how you feel in the comments.
Citations: All Gender Restrooms at Yale (Yale University), Yale's Gender Neutral Bathrooms Part of Changing Climate (ABC News), Yale's gender neutral bathrooms part of changing climate (Associated Press)