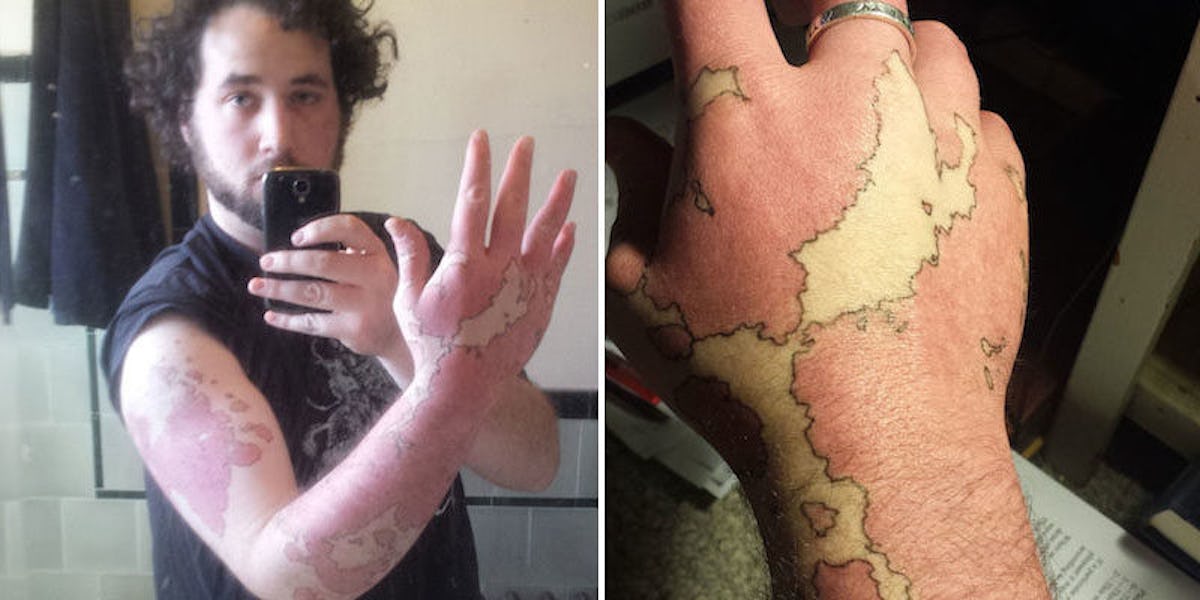 Creative Man Turns His Unique Birthmarks Into A Giant Imaginary Map (Photos)
Imgur
Loving your body, imperfections and all, is so important, but can admittedly be difficult to do -- after all, we are our own harshest critics.
Let Reddit user Mneneon serve as an inspiration and a reminder that different is beautiful.
The mathematician and engineer was born with large, red birthmarks covering the skin on his hands and arms.
In his eyes, the patches have always looked like a map of some imaginary world.
Recently, he used a pen to outline the borders of his birthmarks on his arms and hands, creating an incredible body art piece that he calls his "birthmap."
Asked if he's ever considered tattooing the map's borders on, Mneneon replied,
Yep! But I always found [the birthmarks] a cool thing on its own, and I wanted no one to doubt that it was something I was born with and accepted, rather than decided upon later.
His positive attitude and sense of self-acceptance is so inspiring.
Check out Mneneon's beautiful birthmap, below.
Mneneon has always envisioned his birthmarks as a map.
He meticulously outlined the red spots with pen.
Which is land: The red or the white? (He says red, at least on his hands).
Personally, I see the white areas as land.
Mneneon calls this his "birthmap."
He's considered immortalizing the birthmap by tattooing it on.
There are little islands...
...and large, mysterious plots of land.
He's always embraced his birthmarks and the fact that he stands out.
His self-acceptance is inspiring.
Citations: This Man Transformed His Birthmarks Into An Imaginary Map Of The World (Cosmopolitan), Creative Man Turns His Birthmarks Into A Map Of An Imaginary World (My Modern Met)