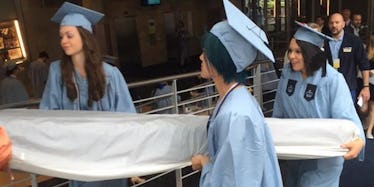 Columbia Student Brings Her Mattress To Graduation To Protest Rape Case
Twitter
Today is graduation day for students at Columbia College, the oldest undergraduate college of Columbia University.
Many students proudly marched across the stage, free of the final exams and burdens of college. But Emma Sulkowicz walked across the stage carrying a profound amount of weight on her shoulders: her mattress.
Sulkowicz made national news for carrying around her mattress across campus to protest the university's handling of her alleged sexual assault.
She says she was sexually assaulted her sophomore year by another Columbia student in her own dorm room. Roughly eight months later, she filed a complaint against her alleged attacker, who was ultimately found "not responsible."
She later filed a complaint through the New York Police Department and Title IX. She and two other women reported the same attacker to the university.
Ever since the university dismissed her case, she vowed to carry a mattress everywhere across campus as part of her senior thesis titled "Carry That Weight."
Despite a last-minute rule banning bringing "large objects" on to the graduation stage, Sulkowicz showed up with her mattress.
Emma Sulkowicz is with her mattress, waiting in the processional line for #ccclassday pic.twitter.com/ubaDeG0rQz — Teo Armus (@teoarmus) May 19, 2015
With a little help of some friends, Sulkowicz kept her promise to carry it whenever she is on university property and until her alleged rapist is expelled.
Emma Sulkowicz brought her mattress to Columbia graduation today (pic via @teoarmus) http://t.co/lFlaAVVgvb pic.twitter.com/7jOdYiRkQW — Peter Jacobs (@peterajacobs) May 19, 2015
She received an overwhelming amount of cheers as she carried the mattress across the stage.
Emma Sulkowicz carrying her mattress across the stage at #ColumbiaCommencement pic.twitter.com/oF9sYwVYKX — Tess Koman (@tessie_the_mess) May 19, 2015
Sulkowicz and Columbia's president, Lee Bollinger, did not shake hands, although it's unclear if that was intentional.
Emma Sulkowicz did not shake hands with President Lee Bollinger when she went on stage at #ccclassday2015 pic.twitter.com/y7bbKj3iCp — Teo Armus (@teoarmus) May 19, 2015
Citations: Columbia Student Carries Mattress at Graduation in Protest of Campus Rape Case (TIME), [UPDATED] Columbia Student Emma Sulkowicz Brings Her Mattress to Graduation (Cosmopolitan ), Emma Sulkowiczu2019s performance art draws support from campus activists (Columbia Spectator ), Sulkowicz may not be allowed to bring mattress to CC Class Day (Columbia Spectator)