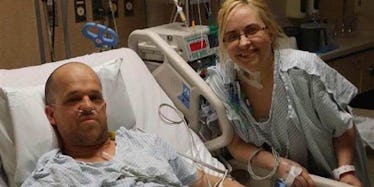 Woman Ends Up Marrying Selfless Stranger Who Donated Liver To Save Her Life
Chris Dempsey
Finally, something good has happened in 2016.
If 2016 were a type of food, it'd be brussels sprouts. Brussels sprouts that were left in the basement of a haunted asylum for 32 years and slowly masticated by the toothless jaws of whimpering child-ghosts.
We need a break. We need some news that isn't the informational equivalent of a knuckle punch in the rectum.
So, how about a love story? Yes, I think that'll do nicely.
Heather Krueger was dying from cancer and needed a partial liver transplant.
Chris Dempsey, who had never met Heather before, offered her part of his liver, saving her life.
And then they got married.
Let me explain the whole story.
Chris Dempsey is a code-enforcement officer in Illinois. He overheard one of his coworkers discussing how a cousin had cancer and would likely die without a transplant.
Dempsey, for no reason except he is a saint, offered to get tested to see if he was a match. And he was.
When asked by CBS why he decided to offer part of his liver to a complete stranger, Dempsey had this straightforward answer:
I spent four years in the Marine Corps and learned there never to run away from anything. So I said to myself, 'Hey, if I can help, I'm going to help.'
I have absolutely no funny quips to say about that. That's just utterly remarkable.
Generosity like this is so rare that when I first came upon this story, my first impulse was to think this guy was literally mentally unwell.
That's how little faith I have in stories about unconditional kindness.
The people in Dempsey's life had a similar reaction as me at first, as he described to the Today Show:
Some people didn't understand why I would do this for a stranger, but as time went on, people changed their tune and thought it was a cool thing I was doing.
Stories like this one are an important reminder, especially when our country spends all of its time sharpening knives and drawing lines in the sand, that we all have a choice to stop and be kind to people we don't know.
Krueger explained this sentiment beautifully on the Today Show:
I think first of all that it shows everyone, when all you hear is negativity, that there really are sincerely true, kind people out there.
When she first heard what this total stranger had done for her, Krueger couldn't believe it, saying,
I got off the phone and ran down the hallway, and my mother and I were both crying our eyes out in disbelief.
The two kept in contact after the surgery and slowly became closer.
Dempsey made it very clear to Krueger there were no strings attached to his gift,
He had told me at the beginning of everything, 'You owe me absolutely nothing for this. We can go our separate ways if that's what you want.'
At first, she was rightfully and understandably confused about whether or not the feelings that had started to bloom were primarily because of the sacrifice he'd undergone for her.
She explained,
It was kind of like, we do have this special bond, but is this just because I'm sick that I'm feeling this way?
But then she came to understand it had nothing to do with that. After all, a man who could risk his life for a complete stranger is probably worth loving for many other reasons.
She said,
You had to kind of separate that, but after the surgery, I realized it went beyond that.
Congratulations to both of you. At least one good thing happened in our hellish shark tornado of a year.
Citations: Today, CBS News, New York Post