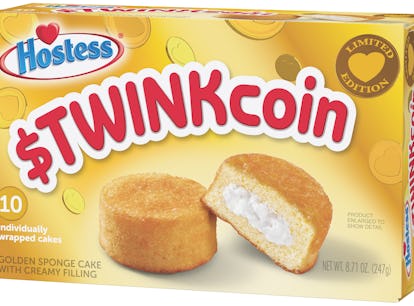 I Am *Reeling* After Finding Out $TWINKcoin Twinkies Aren't A Joke
I kinda want to eat them, though.
Courtesy of Hostess
It's time to say bye-bye to Bitcoin, because a new cryptocurrency has officially entered the chat. On June 21, Hostess put its own spin on the crypto trend with $TWINKcoin, and despite a name that might make you think otherwise, it's a real thing — but it's not what you think. So, what is $TWINKcoin? The new Twinkie snack is about to be a valuable asset in your pantry.
If you've got questions, I don't blame you. There's a lot to unpack here, starting with the name. Despite its crypto-inspired moniker, $TWINKcoin isn't actually a form of cryptocurrency. I can hear you letting out a huge sigh of relief. Instead, $TWINKcoin is a new limited-edition Twinkie treat that's made to look like the round, golden coins that crypto is named after. While they don't look Twinkie rolls you know and love, don't worry — $TWINKcoin may have a new aesthetic, but the nostalgic bite features the same creamy filling, soft texture, and sweet flavor spongecake as the OG treat. Sounds like this is the only "coin" worth investing in, TBH.
Much like real crypto, the fun twist on the old classic won't be around forever (sorry, I had to). Here's where you can get yours before the $TWINKcoin craze comes to an end.
As of July 8, $TWINKcoin became exclusively available online at PopWild, according a Hostess spokesperson. That means you can buy edible wannabe crypto in the same place you get actual Bitcoin. It'll be until Aug. 8 while supplies last, so don't wait too long to get your head in the Twinkie crypto game.
We at Elite Daily only include products that have been independently selected by our editors. We may receive a portion of sales if you purchase a product through a link in this article.
Prior to the online release, the $TWINKcoin Twinkies were available exclusively at Walmart, but they were only available for a limited time. TL;DR: If you want to get in on the limited-time bite, it's best to go online and scoop up a box (or 10!).
So, let's review the facts: $TWINKcoin is delicious, dependable, and delectable. Even in its new form, $TWINKcoin is still the reliable Twinkie you know and love, and you don't have to worry about it crashing and losing your investment, unless you've got a roommate who likes to raid your treats. I'll take 10 shares, please (is that how crypto works?!).
There's a new currency rising in value, and it has a seriously sweet return. The name might make you scratch your head, but at least the risks of investing in $TWINKcoin are way lower than actual cryptocurrency.
This article was originally published on