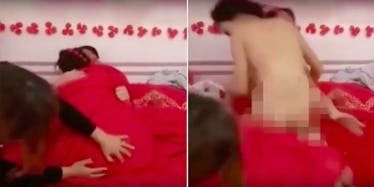 Wedding Guests Force Newlyweds To Have Sex In Front Of Them In Bizarre Video
YouTube
I've said it before, and I'll say it again: Weddings are getting weirder and weirder every damn day.
After I watched a video of a bride giving her new husband a fake blowjob in front of family and friends at a wedding reception, I was astonished.
Then, I was taken aback while viewing the footage of male wedding guests trying to rip off a bride's underwear while she sat in bed with the groom after their ceremony.
But THIS story puts those to shame. In a video taken at a Chinese wedding, guests seem to be forcing the bride and groom to have sex in front of them, MailOnline reports.
The footage, allegedly shared on YouTube, shows the newlywed couple in bed together under what is believed to be a "lucky" red duvet.
Female wedding guests in the video quickly begin harassing the lovers and demanding they take their underwear off in front of them.
Before long, the bride hands her red undergarments to a woman standing near the bed. Her husband quickly follows her lead and removes his black underwear.
Don't worry, it gets weirder... MUCH WEIRDER.
As the video progresses, guests are heard insisting the couple have sex in front of them.
The newlyweds adhere to their bizarre request, and the groom pulls his naked bride's body closer to him while still under the covers. After he does so, guests in the room are still heard shouting demands at the couple.
They reportedly said things like, "You climb onto his body now!" and "Are you two attached to each other?"
Who DOES that?!
In the video, one of the guests even reaches for the bride's thigh and places it on top of the husband.
But you guessed it: The guests still aren't happy, and one of them resorts to physically forcing the couple to have sex.
To do so, she puts her hands on the bride's butt and forces her to sit on her husband's groin area. Then, she gives the bride a good ol' tap on the back for encouragement.
Moments after the bride is positioned on top of her husband, the guest rips the duvet off the mounted couple, therefore exposing their naked bodies to everyone.
WTF, right?
I'd cry a million tears if someone ever did that to me, but all that's heard in the video is laughter.
Apparently, this was considered "funny" for the guests and the couple. When did I miss the memo that forcing someone to have sex is "funny?"
Actually, I don't think that memo ever existed.
Maybe I'm being too harsh, and maybe this was just a sick wedding game.
I just hope this couple got some privacy after all was said and done.
Citations: MailOnline