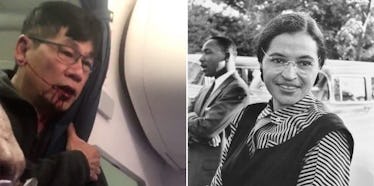 The United Airlines Passenger Was Compared To Rosa Parks And People Are Pissed
Twitter / Wikimedia Commons
David Dao, a United Airlines passenger who was forcefully dragged off a plane on Sunday, has been compared to Civil Rights icon Rosa Parks.
Not everyone is particularly pleased with that comparison.
Dao was on a United flight at Chicago O'Hare International Airport when the crew asked him to give up his seat, for which he had paid.
Originally, it was believed the flight was overbooked, but emerging details revealed it actually was not. The plane just had no more empty seats for United crew members to travel, so several paying customers were asked to leave.
Dao refused to leave his seat. Eventually, United called in law enforcement officials, who violently dragged Dao off the plane, leaving him bloodied.
Shocking videos of the incident quickly went viral, leaving United to defend and apologize.
Dao's attorneys had a press conference, alongside his daughter, on Thursday to discuss the case.
They said he will likely sue United for the damages he suffered.
In the course of the forcible removal, Dao received a concussion and a broken nose. He also lost two front teeth. He's out of the hospital, but planning to get reconstructive surgery.
During the press conference, Dao's lawyer, Thomas Demetrio, said his client had been compared to Rosa Parks.
Demetrio said he does not believe the brutality against Dao, who is Vietnamese, was racially motivated.
But, he said, he had gotten an email saying that Dao was like an "Asian version of Rosa Parks."
Demetrio also said,
He said that he left Vietnam in 1975 when Saigon fell and he was on a boat and he said he was terrified. He said that being dragged down the aisle was more horrifying and harrowing than what he experienced when leaving Vietnam.
In fact, some people had already made the comparison of United passenger Dao to Parks.
As seen on the internet.
In case you don't remember, Parks was the woman who refused to leave her seat at the front of a bus during the Civil Rights Era.
But not everybody agrees with that comparison.
Many people took issue with a tweet from USA Today posing the question if Dao was like Rosa Parks.
The USA Today tweet, which has since been deleted, was not suggesting that, but was simply linking to their coverage of the lawyer's remarks, but it's way more fun to be reactionary and rail against the media, I guess.
It is a pretty radical comparison to make, since Parks was such a vital part in the history of the Civil Rights Movement.
In case you do need a lesson on why it's inappropriate to make that comparison, Urana McCauley, Parks's niece, spelled it out for TMZ.
While she said what happened to Dao was "definitely wrong" and "definitely a mistreatment of him," she added,
What Dr. Dao was going to do was probably change the policy of United Airlines, but actually what my aunt did was change history.
United has since apologized again.
"This horrible situation has provided a harsh learning experience from which we will take immediate, concrete action," United said. "We have committed to our customers and our employees that we are going to fix what's broken so this never happens again."
This is an ongoing case.
Citations: United says Flight 3411 wasn't overbooked. It just had no open seats left (CNN), Lawyer says Dr. Dao has concussion, lost 2 teeth, will likely sue United, others (AP), United passenger's lawyer says he's gotten emails comparing client to Rosa Parks (USA Today), DISGRACEFUL TO COMPARE DAO TO My History-Changing Aunt (TMZ), United Airlines passenger ordeal 'worse than fall of Saigon' (BBC), United apologizes — again — after attorney describes dragged passenger's injuries (Los Angeles Times)