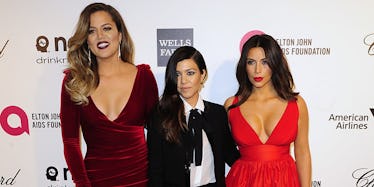 This Is The Only Family Searched For More Than The Kardashians, Google Says
REUTERS
The Kardashians can have a seat in second class: America has turned its attention to a new family.
According to Google Trends, the Trumps have surpassed the Kardashians to become the most searched family in America, off the heels of the 2016 Republican National Convention.
The chart below shows the recent uptick in Google searches for the Trump family.
This trend is not surprising, either. After all, the RNC was more of a showcase for the Trump family than it was for just the Republican nominee himself.
The convention's first night was marked by Melania Trump delivering her controversial speech. It was book-ended by Ivanka Trump introducing her father with the most notable, and somewhat ironic, speech from a Trump family member.
In between, Donald Trump's daughter Tiffany spoke, along with his sons Eric and Donald, Jr. The prominence of the family within the program of the convention prompted comparisons to the Kennedy family.
There's no doubt, though, out of all the family members, Donald Trump's speech was still the most important and the most ominous.