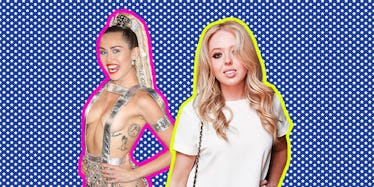 Tiffany Trump Is Basically Miley Cyrus And The Internet Can't Handle It
REX/Shutterstock
Now let's see who's really behind that mask.
It's Miley Cyrus! Donald Trump's daughter, Tiffany Trump, is actually Hannah Montana.
The 22-year-old stole the spotlight Tuesday night when she took to the Republican National Convention stage to congratulate her father on securing enough votes to officially become a Republican nominee for President.
People couldn't get enough of her "Wrecking Ball" looks and, naturally, voiced their opinion on Twitter:
Some even had to get the point across in YouTube videos:
People are convinced she's Miley's Disney alter-ego Hannah Montana:
Others thought the best similarity was Vanessa Bayer doing a Miley Cyrus impression on "Saturday Night Live":
Some went straight for the jugular:
Ouch. Why does the internet always have to get so mean?
People were hoping to hear "Party in the USA" but instead got a yawn-fest speech about how her dad is amazing, yada-yada-yada.
Apparently Tiffany keeps her old report cards because her dad wrote "sweet notes" on them. Aaaah.
Here she is:
Oh, she's just being... Tiffany.