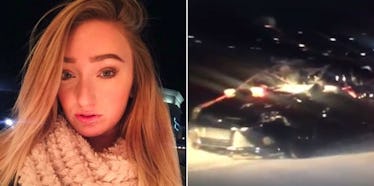 Toni Anderson's Mom Says Clothing And Bruise Details Reveal How She Really Died
Facebook/Twitter
The body found inside a 2012 black Ford Focus pulled from the Missouri River on March 10 is that of missing 20-year-old Toni Anderson.
Toni's mother, Liz Anderson, of Wichita, Kansas, said her daughter's body has been confirmed. However, authorities have not yet released a public statement due to a pending medical examiner's report.
Anderson said police identified her daughter from the clothing she was wearing prior to her disappearance on January 15, 2017.
Judging from the condition of Toni's body when she was discovered, it seems there was no foul play in the midst of her death.
Apparently, the 20-year-old was fully clothed when she was recovered from the vehicle and suffered nothing more than a bruise on her knee. Her window was open and her seatbelt was off.
Anderson came to the conclusion her daughter "became confused" early in the morning after being pulled over by a North Kansas City police officer and ended up at the boat ramp before sliding into the river.
Explaining her envisioned scenario, Anderson said,
She got freaked out. She got lost and she got confused, or whatever. It was still dark. She was on the boat ramp and tried to back out. The ramp was icy and she slid into the river. She was fully clothed. It must have happened so quick. It was so cold. She must have instantly gone into shock. I can see how it could happen.
Toni's mother believes the bruise on her knee came from a GPS she may have knocked off the dashboard of her car.
Toni went missing early in Kansas City in January after she ended her shift as a waitress at a strip club called Chrome.
After work, she drove to meet up with friends and was pulled over by a police officer due to an illegal lane change.
At 4:42 am, she sent a final text message to a friend:
Omg I just got pulled over again
Initially, authorities denied the fact Toni was pulled over, but eventually confirmed she was stopped by a North Kansas City police officer.
It's been reported the officer saw her to a nearby QuikTrip to refill her gasoline and that her GPS stopped working shortly after she was pulled over.
She was then reported missing and a search ensued that lasted nearly two months.
Before her car was retrieved from the river, Toni's mom was convinced she was kidnapped by human traffickers.
However, she is now certain her daughter's car slid into the river when she went missing earlier this year.
Anderson added,
The police have been amazing to us. We are so grateful for the help, love and support from the Kansas City community.
Citations: Update: No foul play suspected in death of Toni Anderson in Missouri River, police say Toni Anderson, 20, went missing Jan. 15. Her mother said Sunday police confirmed to her the body recovered from the Missouri River was her. Toni Anderson's vehicle pulled from Missouri River 2:05 FACEBOOK TWITTER EMAIL SHARE Toni Anderson, 20, went missing Jan. 15. Her mother said Sunday police confirmed to her the body recovered from the Missouri River was her (The Kansas City Star), Toni Anderson's father takes comfort that KCPD has not found evidence of foul play (Fox 4)