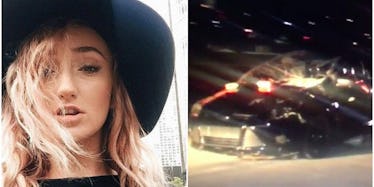 Body Found In Toni Anderson's Car After Disappearing Following Mysterious Text
Facebook/Twitter
Kansas City police captain Stacey Graves confirmed a woman's body was discovered in missing Wichita, Kansas, woman Toni Anderson's vehicle Friday evening.
Anderson's car was pulled from a stretch of the Missouri River in Parkville, Missouri. Divers first pulled an SUV with no known connections to any ongoing investigations from the water before removing Anderson's black Ford Focus with an unidentifiable female body inside.
Toni Anderson, 20, went missing under mysterious circumstances early this year. Anderson was pulled over by police during the early morning hours of January 15 for an illegal lane change after her shift at the strip club where she worked as a waitress ended.
During the traffic stop, she sent this final text message at 4:42 am to a friend:
Omg I just got pulled over again.
Police first denied the traffic stop occurred, but later were able to confirm a North Kansas City police officer did pull Anderson over.
After nearly two months of searching, private investigators traced her cell phone's last known location to an area near where her car was discovered.
Anderson's mother confirmed the discovery in a cell phone conversation with the Kansas City Star, saying,
We just got the news — there's a body in her car. There is somebody inside.
Toni Anderson's family chose to hire private investigators early on in the search of their missing daughter. It was private investigators using sonar for the third day in a row who reportedly uncovered the missing Ford in the Parkville section of the Missouri River.
Captain Stacey Graves confirmed the area that Anderson's car was discovered had been searched previously, as it was an area of interest.
At time of publishing, police would not comment on any cause of death relating to the woman discovered in Anderson's car.
Police still consider this an ongoing investigation and are not speculating on many details.