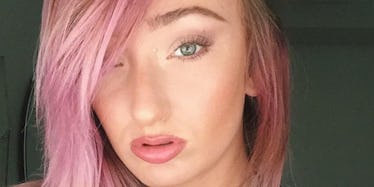 Woman Mysteriously Goes Missing After Sending Friend Bizarre Text About Cops
Toni Anderson
A 20-year-old woman who vanished in Kansas City sent a mysterious final text to a friend.
Toni Anderson went missing early Sunday morning after she left Chrome nightclub, where she works as a server.
She sent this text message to her friend Roxanne Townsend just before 5 am:
Omg just pulled over again.
This is the last contact anyone's had with Anderson since the weekend. She had planned to meet up with a friend at QuikTrip, but never showed.
Her mother, Liz Anderson, told KSHB,
It's not like her. She's social. You pretty much always know where she's at. It's just been a horrible nightmare. And I know any parent going through this is just horrified. It's so hard, such a beautiful, bright, young woman. I just want to find her.
Authorities initially said they had no record of Anderson being stopped by a cop car.
KSHB quoted sergeant Kari Thompson as saying,
We have no indications that she was pulled over by an officer with the Kansas City Missouri Police Department.
However, they have since retracted this and confirmed she was indeed stopped by an officer, but are trying to figure out what happened in the minutes after.
Meanwhile, an eerie Facebook post has emerged on the "Independence Missouri Community Awareness" page warning people of what they believe is a fake cop car in the area.
Part of it reads,
Some person in a blue Ford truck with tinted windows is impersonating a police officer. They had lights in the front windows of the truck with police sirens. He lit them up for a brief minute... Looked like a fake license plate with the number 858 on it. I called 911 as he scared me half to death and almost caused several accidents.
The investigation into missing Toni Anderson continues.
Police have issued official missing persons information on the young woman.
Citations: Family desperate to find missing 20-year-old UMKC student (KSHB)