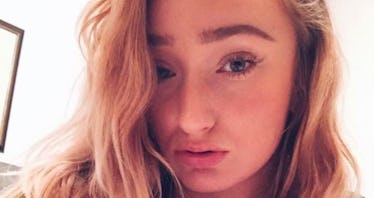 Mom's Theory On Why Daughter Went Missing After Cop Stop Will Break Your Heart
Facebook
The mother of a missing Wichita woman believes her 20-year-old daughter was taken as part of a human trafficking conspiracy.
Toni Anderson, a 2014 East High graduate, has been missing since last month. She was last seen in Kansas City after a police officer stopped her and directed her to pull over at a gas station.
After five weeks and several dead-end leads on the case, Liz Anderson is convinced her daughter has been kidnapped.
She told The Wichita Eagle,
I believe she's been taken, and I believe it's human trafficking. They can't find her. The Kansas City detectives have been amazing, but they're perplexed.
However, authorities are skeptical about Anderson's theory.
Darin Snapp, a spokesman for the Kansas City Police Department, said they are continuing to follow up on leads, but they have no new information to share at this time. Additionally, authorities have yet to find any evidence suggesting foul play.
In an email he sent on Monday, Snapp said,
We've searched by land, air and water and there are no signs of her vehicle.
Toni Anderson, a server at Chrome nightclub, had just finished her shift at around 4 am on January 15, the last day she was seen. She was reportedly on her way to meet a friend at QuikTrip, though she never showed.
She sent this text message to her friend Roxanne Townsend just before 5 am:
Omg just pulled over again.
Authorities initially said there was no record of Anderson being stopped by a cop car. However, they have since retracted that statement and confirmed she was indeed stopped by a North Kansas City police officer for an improper lane change.
That officer gave her a warning and watched Anderson drive her 2014 Ford Focus to the nearby QuikTrip, according to Darin Snapp. So far, no one seems to know what happened next.
Police have said Anderson's debit card was used at the gas station and her GPS stopped working shortly after she was pulled over.
Authorities have refused to release video footage that shows the last known whereabouts of the missing woman, despite a petition started by Anderson's family and friends.
A spokesman from the Kansas City Police Department says the footage will not be made available until the case is closed, at the earliest.
In the month or so since her daughter vanished, Liz Anderson says life has been difficult.
She told The Wichita Eagle,
It's been a horrible nightmare. At times, the grace of God is the only thing keeping us together. You just try to not let it totally consume you, but I know we'll find her.
Though officials have yet to find any evidence to support Anderson's human trafficking theory, a recent sting in October saved the lives of three children in Wichita who were victimized through prostitution. All of the children were between the ages of 15 and 17 years old.
The FBI had teamed up with local law enforcement to target human trafficking, and they ultimately arrested 12 people in Kansas and Missouri who had been accused of being pimps, as well as 14 so-called "Johns" on state and federal charges.
Travis Rakestraw, Lieutenant of the Exploited & Missing Child Unit, told KSN-TV,
I am happy we got three kids. I would like to find more but then again I wish we were in a situation and at a place in our community where we didn't have to have this at all and it was not an issue but unfortunately that is not the case.
As authorities continue to investigate Toni Anderson's case, her mother expressed gratitude for the support her family has received from loved ones and strangers alike all over the country.
We've received endless love, kindness and prayers. I don't think I could get through this without that love. I've gotten cards from people all over the country.
Citations: Mom thinks missing UMKC student is a victim of human trafficking (The Kansas City Star), Online petition asks for police video in missing Wichita woman case (The Wichita Eagle), Sex trafficking sting saves three children in Wichita (KSN-TV)