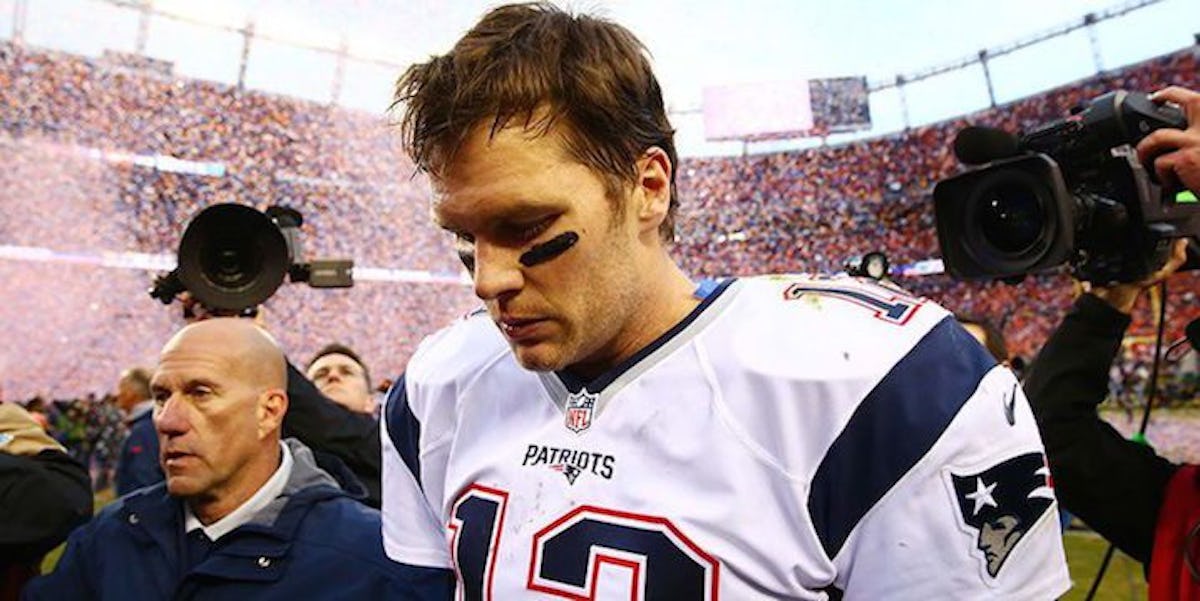 Tom Brady's Bad Grammar In Super Bowl Notes Has Everyone Questioning His Legacy
Reuters
Tom Brady has a lot going for him.
The handsome, 39-year-old football player has a gorgeous supermodel wife and a successful career as the star quarterback of the New England Patriots.
Some have even called Brady one of the greatest football players of all time.
Yep, there's no denying that Brady is an all-star when it comes to dominating the football field.
However, when it comes to conquering the English language, well, it appears that is a completely different story.
While practicing with his team before the big Superbowl Bowl LI game in Houston on February 5, Brady gave the world a glimpse of his wristband notes, and let's just say his grammar could definitely use some work.
It appears Brady is pretty big fan of apostrophes, because his notes read, "Toe's — bend knee's. 30 degree rotation — late. Light light G.P."
Yep, last year we had "Deflategate." This year, we have"Grammargate."
Apparently, the coach of the Baltimore Colts, Don Shula, started the whole wristband thing back in 1965.
That year, Shula had lost both of his quarterbacks and had no choice but to turn one of his running backs into the team's quarterback mid-season.
It's normally the quarterback's job to call the plays at the line of scrimmage.
Since Shula's inexperienced player had little time to learn all the plays, the coach wrote it all down on a homemade plastic wristband for him.
Lo and behold, the quarterback wristband was born.
Now lots of quarterbacks, including Brady, stare down at their wristband notes while on the field.
Apparently, grammar isn't the only thing Brady seems to be struggling with a the moment, either.
On January 30, Brady shed a few tears as he described his father as being his hero and spoke about his ill mother during interviews.
Later in the week, Brady said,
It's personal with my family, and I'm just hoping everyone's here on Sunday to share in a great experience. But it has been a tough year. Every family goes through different things and you know my family has always been a great support system for me and hopefully we can make everyone happy on Sunday.
Brady clearly has a lot on his plate right now, so I think we should all give let his overuse of apostrophes slides this time.
Citations: There IS something he can't do! Tom Brady shows off terrible grammar in wristband notes as he trains for Sunday's Super Bowl (DailyMail.com)