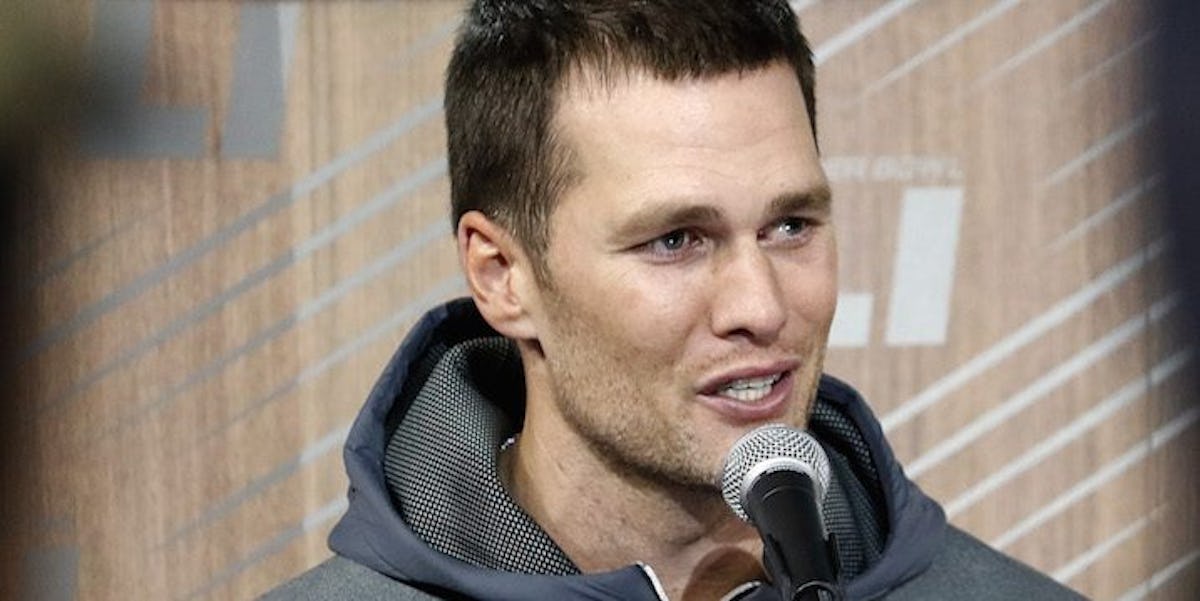 Tom Brady Holds Back Tears While Answering 7-Year-Old Fan's Question
REX/Shutterstock
Dudes love getting emotional about their dads, and we love hearing it, for the most part.
Tom Brady got all choked up at Super Bowl Media Day on Monday while answering questions from the press regarding his "personal hero."
The New England Patriots quarterback told the 7-year-old kid reporter,
Well, I think my dad is my hero, because he's the one I look up to every day… and, uh… my dad.
The fact Tom DIDN'T name once-bestie Donald Trump as his personal hero is reassuring.
Just last week, the 39-year-old claimed he didn't "understand" why his friendship with Trump "[makes] such a big deal."
Perhaps the combination of Trump's misogynist, racist and Islamophobic behavior and Tom's massive following as Super Bowl champion and beloved, if not totally unreliable, athletic figure is the "big deal."
Elite Daily Politics Writer Alexandra Svokos recently reminded readers TB's straight, white, cis, millionaire privilege may make it difficult for him to realize the way his buddy's actions (and threats) affect the real lives of disenfranchised Americans.
There's a good chance Tom Brady hasn't thought too hard at all about the implications of his relationship with Trump. During a press conference in 2016, following the release of Trump's tape full of "locker room talk," a reporter asked,
Tom, you have kids of your own. How would you respond if your kids heard Donald Trump's version of 'locker room talk'?
Tom famously ran away from the inquiry, all but zooming out in a cloud of dust, leaving the podium spinning behind him like a living Bugs Bunny cartoon.
Any guy with a dad who inspires tears like Tom's knows to teach his child not to run away from his problems.
Hopefully after things die down for the football pro following Sunday's game (AHEM, THE SUPER BOWL. HEARD OF IT?), Tom can sit down with his old man and talk about how the friends we choose go a long way in defining us as people.
Citations: TMZ