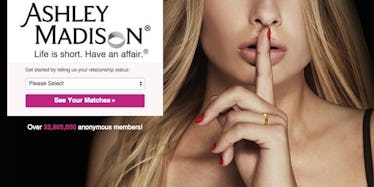 Three People Allegedly Committed Suicide Because Of Ashley Madison Leak
It is reported the hack of dating website Ashley Madison caused three suicides.
According to the BBC, two Canadians took their lives after the hack revealed their memberships to a site used primarily to cheat on spouses in discreet relationships.
The suicides are unconfirmed, the Toronto Star reports, and very little is known about the alleged deaths as of yet.
However, there does not appear to be as much doubt regarding the website's role in last week's suicide of Michael Gorhum, a Texas police captain. Daily Mail reports the 25-year veteran of the San Antonio Police Department killed himself just days after hackers published private information he used for his account.
Last month's breach exposed the email addresses, home addresses, credit card information and more of over 30 million accounts. Avid Life Media, the company that owns Ashley Madison, offered the equivalent of about $378,000 for anyone who helps police track down the hackers called the "Impact Team," the BBC reports.
Bryce Evans, acting staff superintendent of the Toronto Police Service, reportedly said,
Team Impact [sic], I want to make it very clear to you your actions are illegal and we will not be tolerating them. This is your wake-up call.
Ashley Madison user Eliot Shore is suing Avid Life Media in a class-action lawsuit valued at approximately $578 million, according to TIME. Shore reportedly became a member of the site after he lost his wife of 30 years to cancer, but he claims he never actually cheated.
Ashley Madison is also reportedly being sued by a Missouri woman who claims the site told her it would delete certain information for $19 but ultimately did not do so.
Citations: Suicides over Ashley Madison hack (BBC), Three suicides linked to Ashley Madison leak including Texas police chief as 500k bounty is offered for identity of hackers (Daily Mail), Ashley Madison hack may be linked to suicides (Toronto Star), Ashley Madison Faces 578 Million Class Action Lawsuit (TIME)