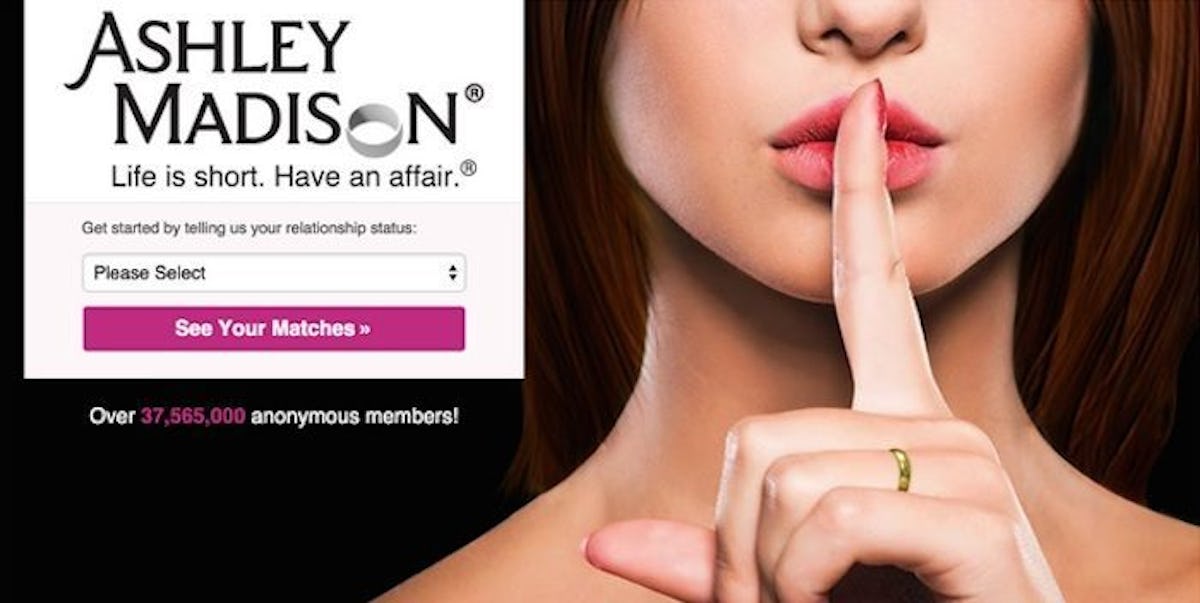 Ashley Madison Gets Hacked And 37 Million Cheaters May Be F*cked Over
About 37 million unfaithful spouses are learning a lesson about cheating in the 21st century.
Ashley Madison, the controversial dating site for users who want to cheat on their significant others, was hacked by a group calling itself the Impact Team. The hacking group is now threatening to release a large amount of the website's user data if the website doesn't shut itself down.
The Impact Team already released some information from Avid Life Media, the company that owns Ashley Madison, Established Men and Cougar Life.
It isn't currently known what exactly the Impact Team is or why it attacked Ashley Madison specifically, but experts think the hack may have been done in response to an ALM service called Full Delete. Full Delete offered Ashley Madison's users the ability to fully delete their information -- all for just $19.
Various hackers claimed this service was offered but didn't do as advertised, leaving users' names and addresses on Avid Life Media servers.
The team took down Ashley Madison and left this notice in its place:
The poster warns,
Shutting down AM and EM will cost you, but non-compliance will cost you more. We will release all customer records, profiles with all the customers' secret sexual fantasies, nude pictures and conversations matching credit card transactions, real names and addresses, and employee documents and emails. Avid Life media will be liable for fraud and extreme harm to millions of users.
Later on in the post, the Impact Team calls out ALM CTO Trevor Sykes directly with an eerie,
Trevor, welcome to your worst f*cking nightmare.
ALM CEO Noel Biderman suggested the leak was probably the work of someone, like a former employee or contractor, who had inside access to the company's servers.
Biderman told journalist Brian Krebs,
We're on the doorstep of [confirming] who we believe is the culprit, and unfortunately that may have triggered this mass publication. I've got their profile right in front of me, all their work credentials. It was definitely a person here that was not an employee but certainly had touched our technical services.
ALM released a press statement early on Monday morning saying it was fully aware of the hack and has been working toward identifying the culprits behind the breach. It read,
We have always had the confidentiality of our customers' information foremost in our minds, and have had stringent security measures in place, including working with leading IT vendors from around the world. As other companies have experienced, these security measures have unfortunately not prevented this attack to our system. At this time, we have been able to secure our sites, and close the unauthorized access points. We are working with law enforcement agencies, which are investigating this criminal act. Any and all parties responsible for this act of cyber–terrorism will be held responsible.
This is the second major hack in the past two months on an adult dating website.
In May, hackers broke into AdultFriendFinder's servers, leaving millions of users exposed and their information traded on web forums.
Citations: Ashley Madison Breach Could Expose Privates Of 37 Million Cheaters (Forbes)