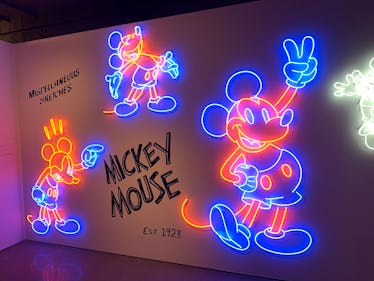 A Mickey Mouse-Themed Pop-Up Is Opening In NYC & Disney Fans Need To See It ASAP
Courtesy of Tina Kolokathis
Who's the leader of the club that's made for you and me? M-i-c-k-e-y M-o-u-s-e! The most famous mouse of all, Mickey Mouse, turns 90 this year, and there's a brand new way for you to celebrate (you know, besides traveling to the Happiest Place On Earth or watching Fantasia for the 7348th time). There's a new pop-up exhibit opening this week in New York City, and these photos of Mickey: The True Original Exhibition will have Disney fans booking their tickets stat.
On Nov. 18, 1928, the character Mickey Mouse was debuted to the world right here in NYC in a short called Steamboat Willie. To commemorate that iconic moment, Disney teamed up with LA-based designer Darren Romanelli to put together a 16,000-square-foot interactive museum.
"I'm incredibly excited to bring Mickey Mouse back to New York City where Steamboat Willie premiered," Romanelli said in a press release. "The moment becomes even more special by being able to pair art world legends like Kenny Scharf alongside today's top emerging artists in an exhibition unlike anything we've ever seen ... These artists have all been touched by the magic of Disney and the experience will reflect that through and through. I can't wait for the world to see it all come to life."
Mickey: The True Original Exhibition showcases original pieces from over 20 artists, all inspired by Mr. Mouse himself. Like this piece by Katherine Bernhardt that shows Mickey with his fave girl and his fave food:
And this Keith Haring piece that's almost immediately recognizable:
It's hard to tell in the photo, but this T-shirt by Amanda Ross-Ho is probably twice the size of me. I still want it, though:
The exhibit has over 10 immersive rooms, and each one shows a different part of Mickey Mouse's story. In the Hello Mickey! room, Disney fans can check out Steamboat Willie: Redux. The experience shows the original Steamboat Willie short alongside remakes done in different styles by different artists.
Oh, and don't forget to check out the life-size steamboat that you can actually jump inside and take a picture on.
In the Mickey Mouse Club room, visitors can basically join the club and jump right on set. The room also features an Ample Hills Creamery stand, where guests can try one of three limited edition flavors created for Mickey's 90th birthday: Triple Chocolate Surprise, Confetti Celebration, and Peanut Butter Jamboree. Take your ice cream to the bar and take in all the videos of baby Justin Timberlake and baby Britney Spears playing on the walls.
Over in The Collection room, Disney fans are reminded of just how much Mickey was embedded into their childhood. Check out all of the merch that has come out over the years, from simple plush dolls and watches to collaborations like Vans x Disney Mickey Mouse and Levi's x Mickey Mouse. Shinique Smith's piece below is just a glimpse at how many different Mickey plushes there are in the world (TBH, I probably had all of these in my lifetime, too).
But the exhibition isn't just about new art. It also houses some original pieces, like a replica of the sketch believed to be Walt Disney's first-ever Mickey Mouse. In the Sorcerer's Way room, fans can also see original mock-ups of Fantasia.
The gift shop also has a ton of merch for sale. You can indulge in some Mickey candy from the Sugarfina collection, grab a new pair of headphones from Beats, or pick up some exhibition-themed apparel.
By now, I know what you're thinking: When does it open?! The exhibition is at 60 10th Avenue in New York. It opens to the public on Nov. 8, 2018 and runs through Feb. 10, 2019. It's open Tuesday through Sunday each week, and tickets will run you $38 per person. My advice is to grab your tickets quick... Disney fans all over the world are flocking to the pop-up and many time slots have already sold out. As Mickey would say, "See ya real soon!"