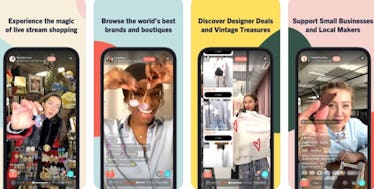 These 5 Apps Created By Women Take Social Media, Shopping, & Beauty To The Next Level
You probably don't give much thought to the dozens of apps on your phone, but all apps start somewhere, and it's cool to know who actually made them — especially when there are so many women creating some game-changing apps. With new apps released almost daily, it can be hard to keep up. To help you out, we rounded up five recently-released apps created by women, and they're taking social media, shopping, beauty, and more to the next level. To inspire your next downloading spree, take a look at what these innovative apps are all about.
It's always a great time to support women and their businesses. Unfortunately, though, the computer science field still has a long way to go when it comes to representation of women. Beyond the ever-popular Bumble dating app, founded by Whitney Wolfe Herd, you might find yourself hard-pressed to name another app created by a woman. A February 2020 survey from Statista illustrated just how male-dominated the software development field is. Per the results published on Statista by research expert Shanhong Liu in June 2020, 91.5% of the 51,406 developers surveyed online identified as male, while only 8% identified as female. Additionally, data from the National Center for Women and Information Technology (NCWIT) published in April 2020 reported that in 2019, women made up 57% of employed U.S. adults, but only 26% of them held jobs in professional computing occupations.
While, according to the numbers, there are still more men than women in tech development as of March 2021, there are so many apps out there created by women. Unfortunately, they don't all get their due. You can check out these women-created apps and show your support with a download.