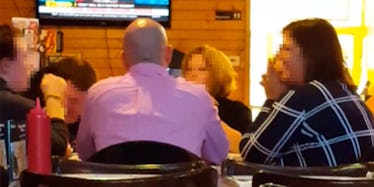 Teachers Caught Discussing Which Students They'd Kill, Marry Or Have Sex With
YouTube
Despite the alarming amount of gross stories we keep hearing regarding teachers misbehaving with students, some teachers haven't learned their lesson.
The latest proof? A group of teachers and a secretary from Bangor High School were caught playing a game of "fuck, marry, kill" while dining at an eatery in Michigan.
It's almost like they thought they'd never get caught.
During the footage, the teachers -- male and female -- can be heard loudly claiming which of their students they would either sleep with, marry or kill.
In the shocking clip, a female teacher can be heard obnoxiously saying,
Oh, I would fuck [student's name]!
Of course, the student's names were blocked out of the video for their own safety.
The group continues to play the inappropriate game as a male teacher then chimes in, admitting,
I would totally marry [student's name] because she likes the Tigers and she never even brought up that I was wasted on the bus trip... She can keep secrets.
Yeah, that's not fucking creepy at all. And just think, these people are somehow allowed to help teach and raise our great leaders of the future.
Here's the video footage of teachers being filmed discussing which students they'd "fuck, marry or kill."
The New York Post reports two of the teachers involved in the video were reprimanded by the higher-ups at Bangor High School with a written statement. The secretary involved has resigned.
Despite the disciplinary actions taken against the teachers, local parents whose children attend the high school in Michigan aren't too satisfied, and it's not hard to see why.
After all, these teachers are literally announcing which of their students they would fuck, marry or kill. Would you want your kid around these creeps after seeing solid proof they are, well, CREEPS?!
One of the parents of a special needs student mentioned in the clip told reporters,
I would like to see people being held accountable. There are some criminal charges being pressed. I'm not sure how that's going to go, but I don't want to see anybody lose their job, but this is not OK, you got to go.
Hey, I don't want to see anyone lose their job, either, but I would hate to see a child lose their happiness because of these out-of-line, blabbermouth teachers.
Citations: Happy Valentine's Day: Teachers Captured on Camera Discussing Which Students They'd 'F*ck, Marry or Kill' (Complex)