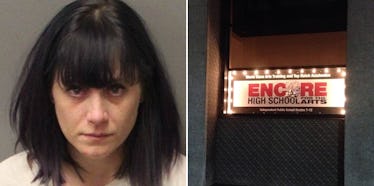 Married Teacher Caught Molesting Teen 'All Throughout' Day When Mom Finds Sexts
Riverside PD/Google Maps
A teacher named Camryn Zelinger from Riverside, California has been arrested after she was caught allegedly molesting one of her teen students.
The 32-year-old teacher at the Encore High School for Arts had allegedly been frequently texting a 14-year-old sexual messages over a period of time. The 14-year-old girl's mother eventually found the messages after looking through her daughter's phone one day.
After making the shocking discovery, the girl's mom immediately contacted police, which eventually resulted in Zelinger's arrest.
The student's mother spoke to KTLA, saying,
I'm a nosy mother. I grabbed her phone, and I looked at texts from this teacher, sexting my baby over the phone, over the texts -- just all this stuff.
Police began to investigate the nature of the relationship between the student and Ms. Zelinger before they found out in addition to having been in contact for months, Zelinger and the student had allegedly made physical contact on multiple occasions.
To top it all off, Camryn Zelinger is a married woman, according to DailyMail.com.
The girls' mother went on to say she could sense something was wrong, but she wasn't sure what it is. Whenever she would confront her daughter, the girl would just brush it off out of fear. The mother said,
She wouldn't tell me, she was too afraid. She kept saying, 'Nothing, mom, nothing, mom'.
Eventually, the woman's daughter revealed the truth, stating Zelinger had allegedly been touching her inappropriately during the "first period" and "eighth period." She then said the alleged molestation would occur "all throughout the day."
Disturbingly, other parents whose children attend the high school stated Zelinger would request other teachers to allow the girl to leave class so they could be together.
As of now, Zelinger is no longer employed at Encore High School. The 32-year-old has been booked on suspicion of molesting and conducting lewd acts toward a child under the legal age of 18.
Citations: Mother of girl, 14, 'molested by a female teacher for months found sexts from the married 32-year-old woman on her daughter's phone' (Daily Mail)