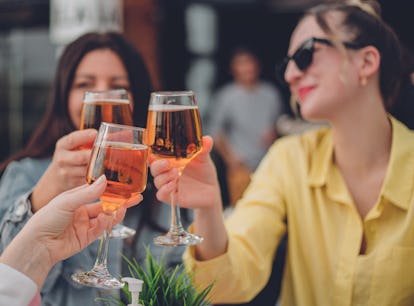 11 TikTok Summer Mocktail Recipes For When You Want To Ditch The Dirty Shirley
Catch me drinking sunset mocktails all summer long.
Iuliia Bondar/Moment/Getty Images
You might've heard that the alcoholic version of the Shirley Temple, aka the Dirty Shirley, has been bestowed the title of "the drink of the summer" for 2022. But even though the Dirty Shirley craze is still going strong, you might not always be in the mood for alcohol. That's where mocktails come in. If you're looking for a refreshingly summery sip that doesn't come with a guaranteed headache in the morning, these 10 summer mocktails are the best Dirty Shirley alternatives.
If you've been keeping up with the Dirty Shirley trend, you know that on May 5, The New York Times named the adult-friendly version of the children's drink as the "drink of the summer" for its growing popularity amongst lifestyle influencers. The Dirty Shirley is made with vodka, grenadine, Sprite or 7UP, and maraschino cherries, and while it makes for a fun twist on a childhood classic, the boozy beverage might not be your ~jam~. You could opt for the OG kiddie cocktail instead, or you can take a page out of the Dirty Shirley playbook and elevate other classic childhood sips, like lemonade, Fanta, and orange juice, without ever having to pick up the vodka. If that sounds more like your vibe, check out these 10 mocktail recipes from TikTok that are perfect for a morning in the sun, an afternoon in the park, or a night by the ocean.
Just because the Dirty Shirley has been deemed the drink of the summer doesn't mean you can't swap the sip for a mocktail every now and again.