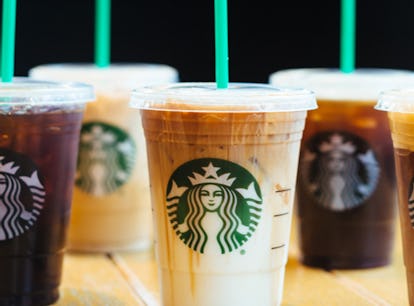 6 Starbucks Vanilla Drinks That Will Give You A Boost
Pro tip: Add espresso to your Frappuccino.
Starbucks has plenty of strong drinks for those looking for a pick-me-up. Whether you need a sip to get your morning started (or a coffee to keep you going in the afternoon), you probably want to consider taste and caffeine counts. Vanilla stans have plenty of options at Starbucks that serve up the right amount of sweetness and energy. If you don't usually stray from your go-to order often, here are the details on the six strongest Starbucks vanilla drinks when you're looking for a tasty sip to help you get energized.
While there are plenty of vanilla-flavored items on the official menu, most drinks at Starbucks are customizable, which means drinks that regularly don't have vanilla can be adjusted to include a pump or two of the sweet stuff for an additional cost. So, if you just really don't want to stray from your classic cuppa, you can always add in a pump of vanilla (or another flavor you're craving). When you don't want to think about all that, though, you can just order right from the Starbucks menu, since there are plenty of caffeine-filled vanilla drinks ready to go.
With so many vanilla-flavored sips to choose from, you could enjoy a new caffeinated sip every day for a whole week. You're sure to get the energy boost you need with a little vanilla flavor to boot.
This article was originally published on