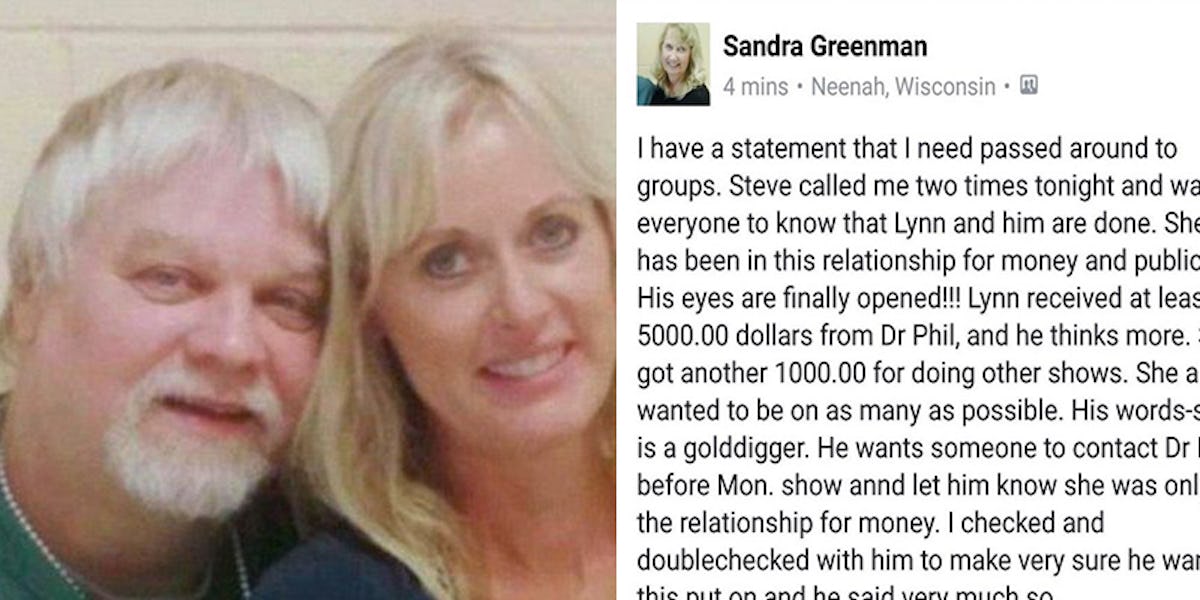 Steven Avery Ends Engagement After One Week Because No One Saw That Coming
Facebook
Because Steven Avery's life is not, it seems, complicated enough, his week-old prison engagement to Lynn Hartman, 53, was just called off.
If you don't know who Steven Avery is by now, I don't know why you clicked on this article in the first place (someone got engaged and then not engaged? I MUST READ THAT!), but here's a recap:
Avery was released from prison after being exonerated for a rape he did not commit, then sent back to prison for a murder some believe he was framed for.
A Netflix documentary series was made about this all, and you all watched it.
OK, so legal secretary Lynn Hartman and Avery got engaged a week ago. Avery is still, obviously, in prison.
The two got to know each other first through letters and have been "dating" for some time now, communicating primarily over the phone.
They became engaged after their first and, I believe, only face-to-face meeting.
Avery, at the time, had this to say about his incarcerated forays into romance:
She's going to be my future wife, we'll be laughing forever.
Now, apart from that being a very creepy thing for an alleged murderer to say, apparently the romance was not set to last.
(Now, to be clear, we are receiving this news second hand, from a very biased party, but here it is.)
Avery's ex-fiancée, Sandra Greenman (seen below), claims Avery told her the engagement was over and Lynn was a "golddigger."
Her Facebook status was allegedly written at Avery's behest and harshly calls out Lynn's ulterior motives.
She wrote,
I have a statement that I need passed around to groups. Steve called me two times tonight and wants everyone to know that Lynn and him are done. She has been in this relationship for money and publicity. His eyes are finally opened!!! Lynn received at least 5000.00 dollars from Dr Phil, and he thinks more. She got another 1000.00 for doing other shows. She also wanted to be on as many as possible. His words-she is a golddigger. He wants someone to contact Dr Phil before Mon. show annd let him know she was only in the relationship for money. I checked and doublechecked with him to make very sure he wanted this put on and he said very much so.
If all this is true, it would prove right what Greenman claimed last week when the engagement was announced:
She's very pretty, there's no way she'd want Steven Avery usually. All the family are afraid of her, something isn't right, I know she wants fame, and she's looking for money.
It's like Avery is just doing anything he can to get a second season of "Making a Murderer" made. Dude is like two seconds away from starring in an inmate-only staged performance of "The Basketball Diaries."
Commenters on the post claim to have seen this development coming:
I'd like to point out here, for the sake of posterity, here we see a bunch of people, passionately defending an alleged murderer, scolding a woman for wanting to be on "Dr. Phil."
There may be some doubts with regard to whether or not he's guilty, but considering the fact that there is at least a possibility  he brutally raped and murdered someone, let's cool it with the "that witch is toying with his heart!!" rhetoric a bit.
As The Wrap reports, Avery's niece, Carla Chase, has corroborated Greenman's Facebook status claims, saying,
Lynn has actually blocked the prison # from her phone & Steven has not been able to get ahold of her. So please, don't let her be the victim as she's trying to play.. saying 'she's been waiting for his call' she has had my home # blocked for weeks.
As Complex points out, the "Dr. Phil" episode with Hartman was already taped and will feature Avery calling in from prison. It is set to air tonight and tomorrow on CBS.
At the time of the taping, the two were still engaged -- which will, at least, make for some seriously interesting television.
Citations: Complex