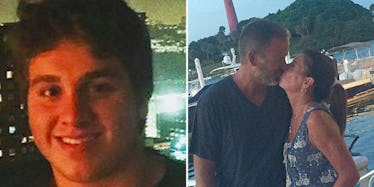 Son Of Man Killed By Student On 'Zombie' Drug Speaks Out About Father's Death
Facebook/Stevens Family
On Monday night, a 19-year-old Florida State University student named Austin Kelly Harrouff allegedly stabbed a couple to death while, police suspect, under the influence of a new and troubling drug named "flakka" — the effects of which have been likened to bath salts.
John Stevens III, 59, and his wife Michelle Mishcon, 53, were killed in their garage.
John Stevens' son, John Stevens' IV, has now come forward to remember his late father and express grief over his tragic death.
He told PEOPLE,
He cared about people, he was just [a] charitable guy. He just wanted people to be happy.
Stevens said his father and Michelle Mishcon "really loved each other," and "they were partners and he just loved her to death."
The horrific details of this crime have shocked many Americans and have recalled the fears surrounding previous cases involving bath salts.
As the Martin County Sheriff, William Snyder, explained in a news conference,
The deputy, when she arrived, observed our offender on top of the male victim laying on the driveway leading to the garage. When she got there she realized the offender was actually biting the victim in the face and causing some substantial trauma to his face from bite marks.
The sheriff called the incident "random" and "unprovoked" and said it was a nearly "impossible task to get him off the victim."
In the end, it took tasers, four police officers and finally a police dog to wrench Harrouff off of John Stevens.
The officers say the man showed "abnormal levels of strength" and pain tolerance, which is why they now suspect the influence of some narcotic.
The sheriff told reporters,
We know people on flakka or bath salts will do this type of behavior where they attack their victim and they do the biting and actually remove pieces of flesh in the bites.
Police claimed to have not used their weapons in fear they might hit the victim. John Stevens died on the way to the hospital.
Harrouff has been charged with aggravated battery. If he survives the severe injuries he sustained while police officers were trying to get him off the victim, the sheriff explained, that charge will shift to home invasion and two counts of murder.
John Steven was a former marine and his family is, amid grieving, now planning his funeral.
Of his father, John Steven's son said,
He was just so excited. When I told him he was going to have a granddaughter he was just super excited.
John Stevens IV said his father had been especially excited to attend his granddaughter's baptism, before the brutal events that occurred Monday night.
He told PEOPLE,
I don't know what you do. It's horrible.
Whether or not drugs were involved, Stevens' son refuses to forgive his father's assailant. He said,
He's taken a lot away from us, not the drugs. There is no real replacement for a grandfather.
Citations: PEOPLE