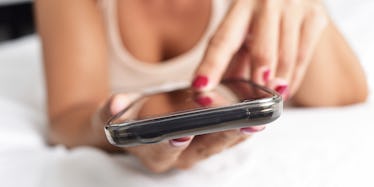 3 Out Of 10 People Share Sexual Photos Of Their SOs Without Permission
Shutterstock
Like everything else in life, frequent sexting has its pros and cons.
The condom company SKYN just conducted a telling sex survey revealing some of these pros and cons. A few of the survey's findings include the fact more people are masturbating and New Yorkers are having the most sex.
Perhaps what stands out the most on the negative side of things is the fact 30 percent of people who participated in SKYN's Millennial Sex Survey admitted to sharing a private photo someone sent them without getting their permission first.
That is NOT good. That means one in three people are looking at those genital selfies you send them and saving them for later so they can show others, whether it be on social media or other forms of sharing.
To top it all off, SYKN's data reveals 48 percent of millennials are sexting at least once on a weekly basis.
That means the odds of your private, sexual photo being shared against your will are higher than ever for those ages 18-34.
According to Mashable, a similar study from Match called the Singles in America survey suggests 90 percent of single women want nothing to do with those random dick pics they get.
A statement from Match regarding the survey reveals the women studied felt "grossed out, disrespected and violated" after receiving such photos.
Unfortunately, the same survey concluded 40 percent of men studied wouldn't hesitate to send a woman a dick pic she didn't ask for.
So, what can we all learn from these new findings? Well, you might want to wait to be asked first before sending over private pictures of yourself. You should also ensure the person you're sending them to vows not to share them with anyone else.
Because what fun is "sexting" if it's not private?!
If you're still confused about the common rules of sexting, read up.
Citations: Put your undies back on. New data reveals sexting isn't so great after all. (Mashable)