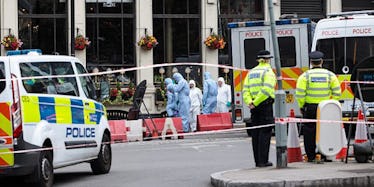 The Moving Reason Why This London Attack Witness Returned To The Scene
Credit: Jack Taylor / Stringer / Getty Images
Despite the chaos unfolding in London's Borough Market on Saturday night — gunshots firing, bloodied restaurant-goers running for their lives, first responders facing the danger head-on — one man isn't letting fear stand in his way.
Richard Angell had been dining at Arabica Bar and Kitchen with friends at the table closest to the door when the attackers arrived on the street. Security locked the door and panic ensued inside the restaurant.
Even though he witnessed the UK's third terror attack within three months, Angell returned to the scene on Sunday to pay his bill and tip the staff, whom he claimed looked out for customers before themselves.
"This is the best city in the world and Borough Market is one of my favorite bits of the best city in the world," Angell told BuzzFeed News. "I'm not going to let the barbaric acts of cowardly people minimize that."
A director at Progress, a website run by Labour party members, Angell provides a direct (and even humorous) approach to dealing with this hatred.
"If [the extremists] have a problem with me having a G&T with friends and flirting and being gay then I'm going to carry on doing it," he said to BuzzFeed. "If that's so barbaric to these people, then two fingers up to them."
In conversation with Channel 4 News, Angell detailed what had been going on in the restaurant next door to where the attackers entered. He told Channel 4 News had the attackers picked his restaurant door instead, things might've turned out very differently.
Seven people lost their lives and dozens more were injured and remain in critical condition because of the attacks on London Bridge and Borough Market. ISIS claimed responsibility for the horrific events on Sunday, and Prime Minister Theresa May vowed to change the country's counterterrorism efforts.
As far as Angell's approach to dealing with the hatred? Carrying on as usual, returning to Borough Market, giving a hefty tip to the waiters, and just living life.
Elite Daily reached out to Angell for comment but did not hear back by the time of publication.
Citations: A Man Who Witnessed The London Bridge Attack Went Back To Pay His Restaurant Bill On Sunday (BuzzFeed News), Channel 4 News (Facebook)