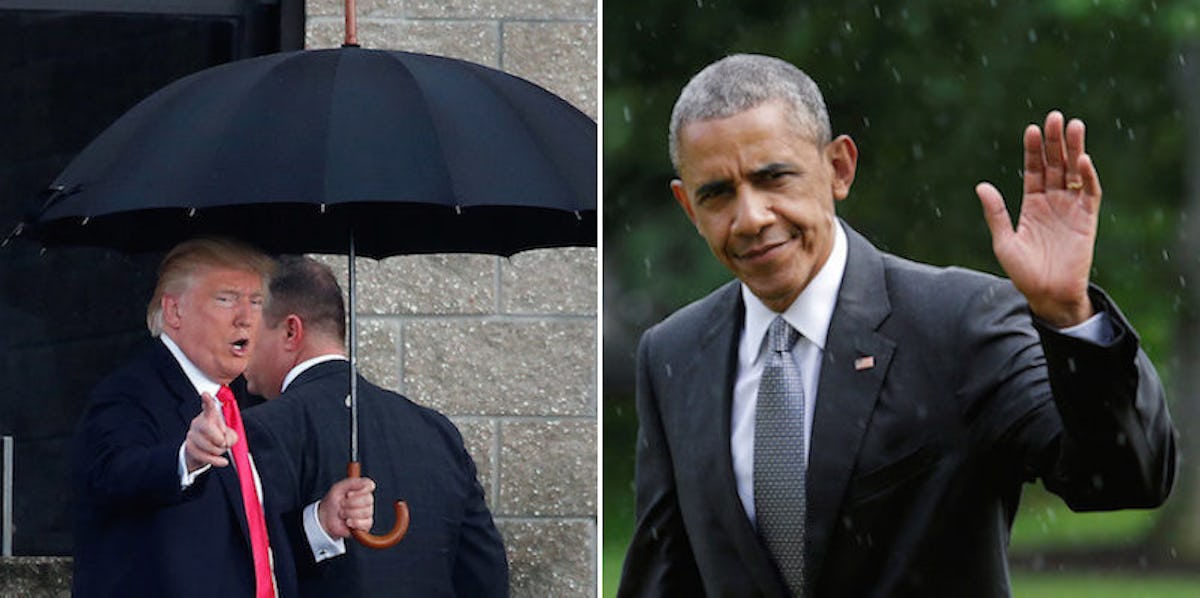 Side-By-Side Pics Perfectly Sum Up The Difference Between Obama And Trump
REUTERS
Two photographs of Obama and Trump in the rain have gone viral on Twitter.
Let's see if you can tell the important difference between the images.
In one, presidential candidate Donald "Never Moist" Trump is seen holding an umbrella over his head while the woman next to him stands under the rain.
In the other, President Barack "Fuck Water" Obama strides through the rain as Michelle Obama gets the umbrella.
And, yeah, everyone on Twitter had the exact same thing to say about it, which is, to be clear, the correct one.
Trump's hair is like suede: If you let it get wet, you have to throw it away.
And despite the fact that Trump has so much money, his toupees are made by harvesting the golden, angel-thin hair of Swedish infants, which, we all know, is more valuable than gold.
Not to be partisan, but obviously, Trump doesn't like getting wet. His appearance is like a house of cards that can fall apart at the slightest provocation.
I'm like 99 percent sure his suit is made of steel rods and plexiglass, and his aids just pour his liquefied soul into it each morning.
Considering what is coming, we're going to miss you, Obama.