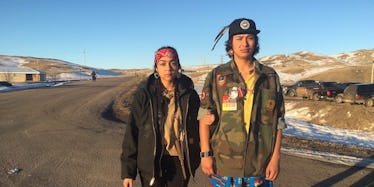 Why This 24-Year-Old Woman Left Her NYC Life Behind To Live At Standing Rock
Laura Hinman
For Laura Hinman, time and money do not exist.
She wakes up when the sun comes up, but hours before that, at around 5 am, the first round of water protectors are already awake making coffee and tending to the wood stoves that keep the camps warm.
Sunrise is around 7:30, and breakfast consists of whatever resources are available. More often than not, this means more fried dough, made of white flour and oil, drizzled in honey.
"Fry bread is a Native food. It's not good for us — it's literally fried dough — but in my opinion it signifies the fact that we've been able to survive despite all odds," Hinman tells Elite Daily.
On the Standing Rock reservation, 24-year-old Hinman joins hundreds of others in the effort to protect the local water supply.
There are three main camps in the area: Sacred Stone, Rosebud and Oceti Oyate. Within the camps are hundreds of mini tents, tipis and yurts, consisting of families or specific tribes who have come out to support the cause.
When you're basically living and working inside of a huge freezer, Hinman says surviving becomes an adventure.
But when you're working within tribes, within a larger community and sharing a common goal with your neighbors, the sense of brotherhood you feel within the camps is enough to motivate you.
"We do things on our own time, we teach patience. A lot of these aspects of camp are rooted in Native beliefs. For me, this is important to learn because I didn't grow up like this," says Hinman.
The argument against the pipeline:
When news broke that the US Army Corps of Engineers would halt plans to build the Dakota Access Pipeline, the media framed it as a victory.
The order was sent out by the Obama Administration in December, and required the Army to explore other economic options for building the pipeline, as well as to conduct more research as to how it would affect the Sioux Tribe.
This decision seems to have only been a way to buy time, as the Obama Administration was quickly making its way out of the White House in time for January 20.
"[The announcement] took all media attention off the issue," says Hinman, who has been camping out at Standing Rock grounds for the last three months.
"When we heard this news, most of us were skeptical because we know announcements like this can be a PR move, like a distraction," she says.
Upon the announcement, the camp quickly shrunk from 8,000 protestors to just 200 in a matter of two weeks.
Reporters slowly packed up and stopped interviewing tribe members. The media focus totally shifted away from the issues surrounding the DAPL, and turned to Donald Trump's controversial inauguration.
But Trump's inauguration only set in motion the campaign promises he's been spewing all along. He planned to approve the Dakota Access Pipeline, and he's delivered on that promise.
In a press conference two weeks ago, Trump said about the decision,
As you know I approved two pipelines that were stuck in limbo forever. I don't even think it was controversial. You know, I approved them and I haven't even heard one call from anybody saying, 'Oh, that was a terrible thing you did.'
Hinman, and the rest of her friends and neighbors camping out on the grounds, disagree.
"This is spiritual warfare," Hinman tells Elite Daily. "We are here to protect the water, we are not protesting or anti-anything. We are a prayer resistance camp."
We are a prayer resistance camp.
When Trump speaks of his commitment to push DAPL, he never fails to mention jobs.
The total number of jobs that will be added to construction of the pipeline will be about 12,000 for DAPL alone (not counting Keystone Pipeline jobs), but these jobs will only be available for about a year. There will be only 35 permanent, long-term jobs created from both pipelines in total.
There will be only 35 permanent jobs as a result of pipeline construction.
The total cost of digging across four states for DAPL is estimated to be around $3.7 billion. Once complete, CNN reports there will be enough crude oil to make about 374.3 million gallons of gasoline per day, which lowers America's dependance on foreign oil.
But those against construction of the pipeline say the US should be focusing its efforts on renewable resources, instead of shelling out a bunch of money to get a quick fix.
In a presidential administration that lauds climate change as a hoax, this is a difficult message to get across.
Those in opposition also site pipeline explosions and the very real possibility of local water supply contamination.
We smile at DAPL workers, and remind them we want their children to be healthy, too.
"DAPL keeps trying to drill, but it's been too cold for their machinery to work," Hinman says.
She adds,
The Morton County Police department and DAPL security are still surveying us every day; they're still parking their cars on our ancestors' graves and positioning snipers over camp at all times. Water protectors are still being beaten, shot with rubber bullets and sprayed with chemical weapons.
It's important for Hinman and other members of the camp to remain peaceful to get their message across.
"This is a Native issue," she says, "but we are not here to protect only Native lives. We need to protect our water sources for everyone. That's what we say on the front lines. We smile at DAPL workers and remind them we want their children to be healthy, too."
Taking water for granted:
Twenty-four years ago, Hinman was born to ancestors part of the Kumeyaay Nation in San Diego, California. Her birth mother was a member of the Mesa Grande reservation, and was very young when she learned she was pregnant.
After deciding to place Hinman up for adoption, her birth mother spent hours flipping through booklets put together by hopeful adoptive parents.
Once Hinman's birth mother chose the parents who would be adopting her daughter, she spent the majority of her pregnancy with them, as they looked after her in eager arrival of their new daughter.
"My birth mother didn't want me to grow up on a reservation; she didn't want me to have to live the way that she lived," says Hinman.
Heavy drug use and violence were the norm on the reservation, and living conditions were rough with no electricity or running water.
"I'm here fighting for life with all my relatives," she says.
Hinman's birth mother committed suicide 10 years ago.
After battling schizophrenia for years, she eventually succumbed to heavy drug use.
It's common for liquor stores to line the entrances to reservations, and corporations often capitalize on the lack of resources available to the people of reservation tribes.
Hinman shares suicide is the leading cause for all Native Americans, male or female. It's common for family members of those involved in reservation life to know the tragedy of suicide all too well.
Because of this, it's common to refer to reservations as death camps.
"It's the outcome of oppression," Hinman says.
Hinman's birth family didn't even know she existed until a year ago.
"To be honest, this journey is personal. It hurts and it heals," she says. "I think everyone here has a deeply rooted personal connection to the movement. That's why it feels so powerful here."
During the past seven years, Laura has lived and worked in New York City, first attending Pratt Institute and going on to work in the fashion industry.
She was born into a life where she never had to think about where her water was coming from, or if it would be clean or not.
"I would prioritize my career over my health, and I certainly never took time to think about what I have and feel thankful," she says.
What's next?
For Hinman, most of her friends and family have left to set up new camps in Michigan and South Dakota, or have been arrested. Her tent that once housed 18 "brothers" is now down to just three people.
The grounds are starting to feel empty, and cleanup has begun.
Toward the end of 2016, there were major actions of resistance with thousands of people showing up at the front lines. Now, with less people, the chances of getting arrested are higher than ever.
Just last week, Hinman's boyfriend was slammed up against a wall and searched by the Bureau of Indian Affairs, just for smoking a rolled cigarette. It's unpredictable what mood agents or officers will be in.
"They're the ones holding guns. They have heavy weaponry at all times," she says.
The charges Natives are facing at the Standing Rock grounds are escalating as well. According to The Guardian, the FBI terrorism task force is spending time interviewing water protectors as potential threats. Hundreds have been arrested since this movement began, including 74 total on February 2 alone.
FBI agents have destroyed sacred property, placed Native people in dog-like kennels and unleashed chemical weapons on elders and children.
But even as the camp begins to clear out, the resistance will never truly be over.
"Our Native identity cannot be squashed, it never has been, despite all efforts. It will all work out, and I can honestly say I trust this path," she says.
The spirituality of Native people has long been misunderstood. Prayer comes in many forms, in ceremonies and large gatherings, but it's a lot more difficult to interpret than a gathering of Christians or Muslims gathering at a church or mosque.
But still, Hinman believes everything happens for a reason.
"I'm learning how to rid myself of fear and doubt, and now that's a gift I can give to anyone who needs it," she says.
"We will be OK, let's just trust ourselves. Trust your spirit; we are strong and powerful. "