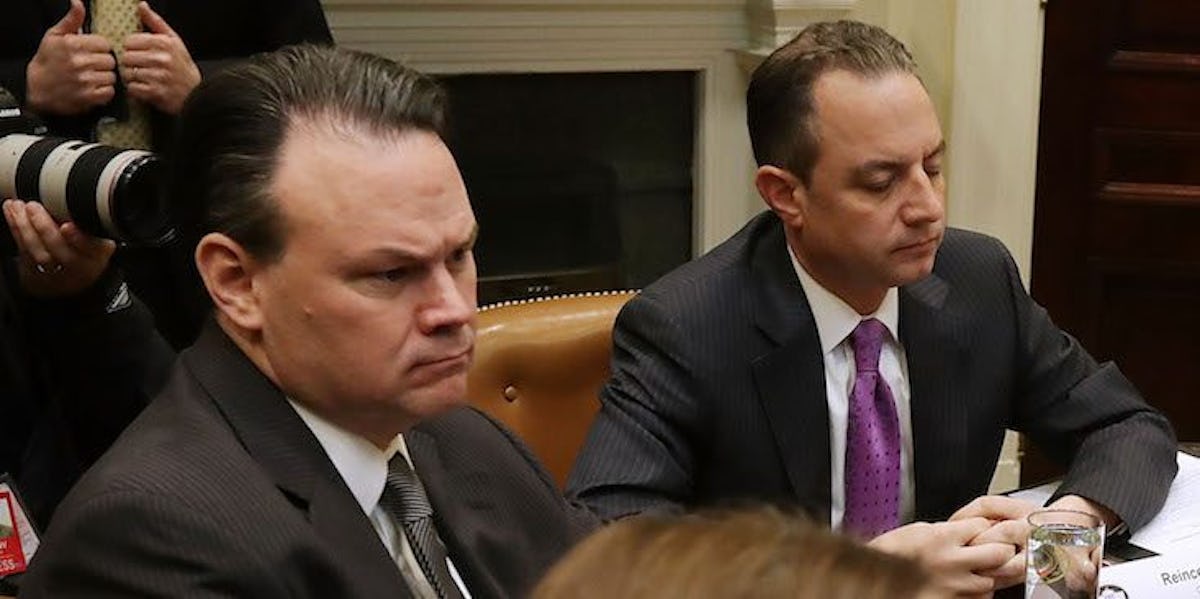 White House Aide Who Allegedly Tried To Set Up Putin Meeting Is Super Low Profile
Chip Somodevilla/Getty Images
There's yet another — yes, another — email reportedly connecting Donald Trump's 2016 presidential campaign to Russian influence and attempt to meddle in the presidential election. And this one might be even more high-level than the last few reports. CNN reported on Wednesday evening that Rick Dearborn had relayed an email attempting to set up a meeting between campaign officials and Russian President Vladimir Putin. And now, many people are wondering — wait, who's Rick Dearborn?
It's not surprising if you're not familiar with the name. Dearborn is not one of the highest-profile members of either the once-and-future Trump presidential campaign, or his White House staff. He's certainly no ex-Chief Strategist Steve Bannon, who was widely seen as a string-puller before his Aug. 18 departure. Nor is he an ex-Communications Director Anthony Scaramucci, to devolve into profanity-laced rants to reporters in on the record calls. He isn't even a Chief of Staff John Kelly, whose main public reputation is for competence and physical signs of exasperation.
Dearborn is, however, a high-level influencer.
He currently serves in the White House as deputy chief of staff for policy, and he has connections of old to many Trump associates. During the presidential campaign Dearborn managed Trump's Washington office, and following the election helped spearhead the transition team as executive director. Even more interestingly, he used to work for Attorney General Jeff Sessions as chief of staff, when Sessions was the senator from Alabama.
You may remember that Sessions, while a senator during the campaign, met with Russian ambassador Sergey Kislyak twice during the presidential campaign, despite saying at his confirmation hearing that he had not met with any Russians. Dearborn may have been involved in setting up those meetings as well.
Most importantly of all, he's that rare thing in the White House — popular.
Dearborn reportedly managed to get on with both the establishment faction and the insurgent faction in the White House, according to Ozy, getting along with both former Chief of Staff Reince Priebus and Chief Strategist Bannon. Politico notes that he's also got solid connections in Congress, as well as in outside conservative groups and think tanks.
But apparently, his days of quiet competence are numbered. And in a White House where media attention only leads to a swift elimination, maybe his days of employment are too.