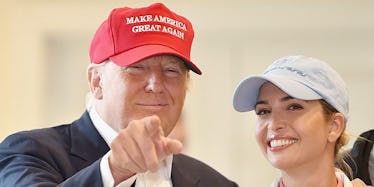 West Wingers Apparently Have A Secret Name For Ivanka Trump And It's So Rude
Jeff J Mitchell/Getty Images
Outside of the White House, Ivanka Trump is best known as First Daughter of the United States and assistant to the president, her father, Donald Trump. Inside of it, she is regarded as something completely different and much more unflattering, a new report says. To some advisors in the White House, Ivanka Trump's nickname is "princess royal," according to Vanity Fair, which published a deep dive into the subject of how Trump and her husband Jared Kushner are fitting in among the political class in Washington D.C.
The nickname refers to her unusual role within the administration. One former Trump advisor told Vanity Fair,
This is not a royal family, and she's not the princess royal.
Apparently, the article says, some in the West Wing refer to Trump as "princess royal" behind her back.
The idea that Trump would be given that nickname and regarded with such sarcasm fits alongside the amount of reports that have detailed how divided the White House is. As the Vanity Fair article mentions itself, the West Wing is split (among other factions) between those more aligned to Trump and her husband, Kushner, and those who are more aligned with former chief strategist Steve Bannon.
The report also detailed how friends of the couple have been disgusted by Trump and Kushner's roles in the White House. The subject of just how many rivals Trump and Kushner have made in Washington D.C. begs the question of how long they'll remain working with the president, especially within an administration that has been marked by a high number of firings and resignations.
There was Sean Spicer, of course, the former Press Secretary who announced he would resign after President Trump hired Anthony Scaramucci as White House communications director.
Then there was former chief of staff Reince Priebus, who left the White House days after Scaramucci savaged him during a call with a reporter from the New Yorker.
There was also Scaramucci himself, who left the West Wing after ten days, literally before his job as communications director officially began.
There difference between all those names -- and Steve Bannon -- is the fact that Ivanka Trump and Jared Kushner are family to the president. In other words, don't hold your breath for any word of their resignations.