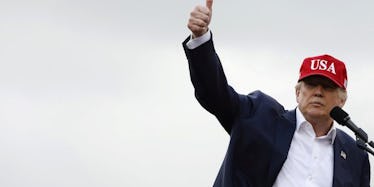 Twitter Feed Of People Who Regret Voting Trump Will Make You Happy, Then Mad
REUTERS
Donald Trump is the most unpopular new president in modern US history.
To put this into perspective, it took George W. Bush, who is considered by many to be among the worst American presidents ever, three years to reach a majority disapproval rating.
It took Trump just eight days to achieve this.
Simply put, the man is setting records for pissing Americans off.
The combination of his addiction to Twitter, refusal to accept basic facts, controversial/discriminatory policies, infantile demeanor and petty focus on things like TV ratings has over half the country thinking he's doing an abysmal job.
You can hardly blame them.
Americans are uniting against Trump, and the streets of major cities have been filled with protesters every weekend since his inauguration.
But, there are two groups with whom it is especially hard to feel solidarity with or sympathy for when it comes to discontentment with the new POTUS: those who chose not to vote and those who voted for Trump and are already having second thoughts.
The anti-Trump cohort tried to warn people about him over and over. They didn't listen, and now, it's too late.
A Twitter account called "Trump Regrets" is documenting the tweets of people who said they voted for Trump and now regret it.
The profile for the account, which can be found at the handle @Trump_Regrets, states,
Retweeting everyone who regrets voting for Trump. DM if you want your tweet taken off.
The tweets they've documented so far will likely make anyone who didn't vote for Trump feel a lot of things simultaneously.
In some ways, you'll be happy some people are starting to see voting for Trump may not have been the most prudent decision.
It's also nice people who supported this man are finally trying to hold him accountable -- this is important.
At the same time, the reasons these individuals regret voting for Trump will potentially fill you with a blinding rage.
Approach these tweets with caution.
This is why we can't have nice things.
Did they think he was going to change overnight (and stop tweeting)?
Trump is acting the same way he did throughout his presidential campaign, if not worse.
Yes, he's still tweeting, and no, it doesn't appear he will stop anytime soon.
If people thought a rich white man who was born into wealth would be a change from the status quo, they were sadly mistaken.
Trump's assembled the richest cabinet in US history.
So, a lot of people don't feel as though he's actually "draining the swamp" as promised.
His treasury secretary nominee, Steven Mnuchin, for example, worked for Goldman Sachs for nearly two decades and profited off the housing crisis.
Why anyone thought a hotheaded man who throws Twitter tantrums over "SNL" skits would actually be diplomatic or anti-militaristic is particularly baffling.
For context, Trump's administration already threatened war with Iran and approved a military operation in Yemen that killed a US Navy SEAL and an 8-year-old American girl.
The people saying they "didn't think Trump would actually" follow up on his insane campaign promises are probably the most infuriating.
Yes, he was serious about what he said. No, people weren't just overreacting.
Also, Mexico is not going to pay for the wall.
Long story short: Voting matters, and elections have consequences.