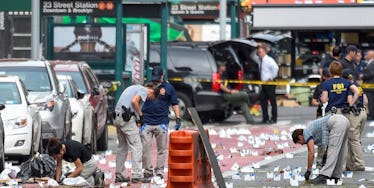 People Are Tweeting Awful Things About Muslims After The New York Bombing
REUTERS
After a bombing in New York City on Saturday, a lot of people did exactly what you shouldn't do after an act of violence and went on the Internet to spread division and hate.
According to an analysis from Vocativ, there was a major increase in the use of the five biggest anti-Islam hashtags after the bombing on Saturday and over the course of the next two days.
In the past week, for example, the hashtag #BanIslam was used at least 22,291 times. Over the four days the led up to the bombing, it was used 10,339 times. But after the bombing, it was used in 11,952 tweets.
Ahmad Khan Rahami, the main suspect in the bombing, is a 28-year-old naturalized American citizen who was born in Afghanistan.
We still have much to learn about his motives. Regardless, his origins do not justify spreading hate against Muslims.
Unfortunately, however, none of the anti-Islam responses on Twitter come as much of a surprise if you take a look at the sharp rise in Islamophobia over the course of the past year.
Research shows hate crimes against Muslims are at their highest levels since the aftermath of the 9/11 terror attacks.
According to data compiled by researchers at California State University, San Bernardino, hate crimes against American Muslims were up 78 percent in 2015.
Much of this has coincided with the election cycle and the Islamophobic rhetoric of individuals like Republican presidential nominee Donald Trump.
Speaking with the New York Times, Brian Levin, the director of the Center for the Study of Hate and Extremism at the San Bernardino campus, said,
We're seeing these stereotypes and derogative statements become part of the political discourse. The bottom line is we're talking about a significant increase in these types of hate crimes.
According to another recent report from Georgetown University's Center for Muslim-Christian Understanding, there were 180 reported incidents of anti-Muslim violence between March 2015, when the first candidate announced his bid for the White House, and March 2016.
This is a significant increase from 2014, when there were 154 reported incidents of anti-Muslim violence.
Donald Trump has proposed things like banning Muslims from entering the US as well as forcing Muslims in the US to register in a database and requiring them to carry special identification.
Meanwhile, he and people associated with his campaign have continued to demonize refugees from predominately Muslim countries.
In the wake of the explosion in New York, Trump's son generated controversy with a tweet that compared Syrian refugees to a bowl of Skittles in which three of the Skittles were poisoned.
This tweet was yet another example of the Trump campaign spreading false information in order to spread fear for its own political gain.
When a presidential nominee for a major political party and his son are actively promoting Islamophobic sentiments, that promotion helps those sentiments become mainstream.
This definitely doesn't help in terms of preventing hate crimes against Muslims.