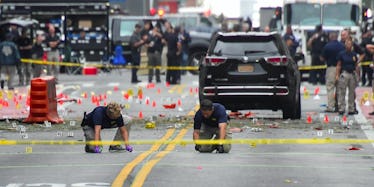 Bomb Explosion In New York City Was 'Act Of Terrorism,' Says Governor Cuomo
REUTERS
Governor Andrew Cuomo has branded the explosion in New York City an "act of terrorism."
He said"we really were lucky that there were no fatalities" when the blast ripped through 23rd Street and Sixth Avenue in Chelsea on Saturday night.
Speaking to reporters near the scene, the governor said,
Whoever placed these bombs we will find and they will be brought to justice, period. And they will be punished. We will not allow these types of people and these types of threats disrupt life in New York. This is freedom, this is democracy and we're not going to allow them to take that from us.
Probed whether he thought the explosion was an act of terror, he replied,
It depends on your definition of terrorism. A bomb exploding in New York is obviously an act of terrorism, but it's not linked to international terrorism. In other words, we've found no ISIS connection.
The night before, Mayor de Blasio did not label it an act of terrorism. After Cuomo seemed to claim differently, he said,
But the mayor is correct in that there is no link at this time at this preliminary stage to international terrorism.
The governor stressed life will go on as normal in New York City.
Around 29 people were injured in the blast. None of those injured are reportedly in a life-threatening condition, but one is described as serious.
Dramatic footage has emerged of the incident.
In the video, caught by a surveillance camera, people are seen running for safety when a ball of fire lights up a sidewalk.
Smoke is seen rising from outside a building as huge chunks of debris shower the area.
Another video, published by Associated Press on YouTube, shows the chaotic aftermath.
Mayor Bill de Blasio previously said the blast, which went off at around 9 pm, was being treated as intentional.
The investigation is ongoing and no arrests have been made in connection with the attack.
Citations: CNN, The Guardian, BBC, Newsday