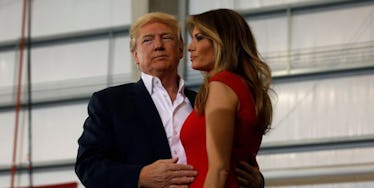 Trump's Oscars Night Plans Prove He's Still Mad At Meryl's Golden Globes Speech
REUTERS
Over the years, awards ceremonies have frequently gotten very political.
In the age of Trump, this trend has been pushed into overdrive.
From the Golden Globes to the Grammys, we have seen a number of celebrities make statements that are critical of America's new president.
Meryl Streep's speech at the Golden Globes this year probably stands out the most, especially given how it enraged President Trump.
Trump threw a massive temper tantrum on Twitter after Streep's critical remarks.
In a series of angry tweets, the president said,
Meryl Streep, one of the most over-rated actresses in Hollywood, doesn't know me but attacked last night at the Golden Globes. She is a Hillary flunky who lost big.
Trump doesn't deal very well with criticism, but that's not exactly a secret from anyone.
But it seems like the president might miss out on the anti-Trump speeches at the Oscars, so there's a chance we won't see any subsequent Twitter rants (a very slim chance).
Melania Trump is hosting a White House ball at the same time as the Oscars.
The first lady is set to host her first major formal event at the White House on Sunday -- the Governors' Ball -- and it's happening during the Oscars, the Daily Mail reports.
At a press conference on Wednesday, White House Press Secretary Sean Spicer said,
Mrs. Trump looks forward to putting on a phenomenal event. And the first lady's put a lot of time into this event that's going to occur, welcoming our nation's governors to the capital and I have a feeling that that's where the president and the first lady are going to be focused on, on Sunday night.
Perhaps this was a deliberate move, so that Trump doesn't have to sit through yet another speech in which he gets completely roasted.
Citations: Melania v the Oscars: First lady will host White House ball at same time as movie ceremony (so her husband should avoid awkward anti-Trump speeches) Read more: http://www.dailymail.co.uk/news/article-4250138/Melania-s-ball-compete-Oscars.html#ixzz4ZWgSyoip Follow us: @MailOnline on Twitter | DailyMail on Facebook (DailyMail.com)