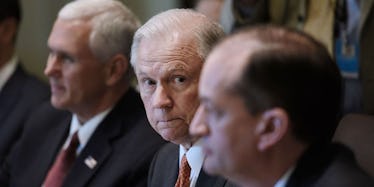 Trump's Attorney General Is Being Questioned By Congress On Russia Connection
Olivier Douliery-Pool/Getty Images
On Tuesday afternoon, Attorney General Jeff Sessions is scheduled to testify before the Senate Intelligence Committee.
The topic of concern? Russia.
As DJ Khaled would say, it's #AnotherOne.
Yep.
Yet another testimony before members of Congress that in some way, shape, or form is related to the subject of potential ties between Donald Trump's presidential campaign and Russian interference in the 2016 election.
This time, unlike last week's much-publicized Comey testimony, the man in the hot seat will be someone who has not been there before.
Yes, today marks the first time Sessions, the nation's top law enforcement official, will be questioned in a hearing that will likely be devoted to all things Russia.
That all begs the question: What exactly is Sessions' connection to the foreign adversary?
The answer can be explained by revisiting a certain timeline of events.
January 10 -- Sessions says he had no contact with Russian officials during the campaign.
During Sessions' confirmation hearing, to become Attorney General, Sen. Al Franken asked his former colleague about communications between Trump campaign officials and Russian officials.
Sessions, though not asked about himself, specifically, voluntarily replied,
I did not have communications with the Russians.
March 1 -- The Washington Post reports Sessions had contact with a Russian official.
The Post's report claims that, despite Sessions' testimony during his confirmation hearings, the attorney general had met with Russian diplomat Sergey Kislyak on two separate occasions.
The report raised questions of whether Sessions committed perjury, as his confirmation hearing was conducted under oath. The news also raised calls for an independent commission.
March 2 -- Jeff Sessions recuses himself
The next day, in a public address at the Department of Justice, Sessions admits to meeting with Kislyak but maintains that he did not discuss with any Russian official matters related to the presidential campaign.
Nevertheless, the attorney general recuses himself from all Russia-Trump investigations, presumably to avoid any appearance of conflict of interest.
May 9 -- White House says Sessions involved in firing of James Comey
After firing the former FBI director, a statement from the White House says President Trump committed to the firing after the move was recommended by Deputy Attorney General Rod Rosenstein and Attorney General Sessions.
The implication that Sessions suggested the firing raises eyebrows as Comey had been leading the counterintelligence investigation into potential ties between Trump's camp and Russia.
June 8 -- Comey widens the scope
During his hearing before the Senate Intel Committee, James Comey suggested there were more reasons that what had already been reported for Sessions to have recused himself.
More specifically, Comey told members of Congress that FBI leadership had expected the Attorney General to recuse himself even before the Washington Post report prompted Sessions to do so.
The moment Comey revealed that fact can be seen in the video below.
After the public hearing, CNN reported that Comey told senators Sessions may have had a third undisclosed meeting with a Russian official.
Tuesday's testimony
Now, amid reports of more contacts with Russians, and after Comey's suggestion that Sessions was compromised from the start, the attorney general will face questions on Capitol Hill.
Whether or not the testimony provides any answers remains to be seen. Given the timeline of events, though, it's clear why senators have questions.