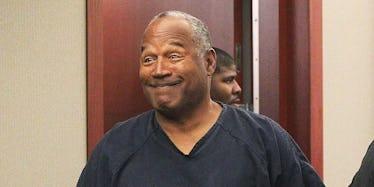 Trump Once Wanted OJ Simpson, Who's Up For Parole, To Be On 'Celebrity Apprentice'
Jeff Scheid-Pool/Getty Images
It often seems as if there's no issue Donald Trump has not offered his thoughts on at some point, and the saga of OJ Simpson has not been immune to this trend.
As it turns out, Trump wanted Simpson on The Celebrity Apprentice at one point, according to CNN.
Simpson, who's spent the last eight and a half years at a medium security prison in Nevada, Lovelock Correctional Facility, has a parole hearing on Thursday, July 20.
The Hall of Fame running back could be released as early as October, CNN reports.
There's a great deal of media hype surrounding Simpson's hearing, and it's reminiscent of a time when Trump suggested he should be on his reality show, The Celebrity Apprentice.
While appearing on the Howard Stern Show in 2008, Trump said putting Simpson on the show would lead to "huge ratings," but claimed NBC went "totally crazy" over the idea, according to The Washington Post.
Trump wouldn't tell Stern whether he spoke to Simpson about this, but said the former football star "would have done" the show.
"I hadn't spoken to him in years, I don't like people that kill their wives," Trump added. "Does that make sense? Does that make me a disloyal person?" While Simpson was accused and tried for the murder of his ex-wife, Nicole Brown Simpson, and her friend Ron Goldman, he was ultimately found not guilty.
In April 2008, Amanda Ruisi, an NBC spokesperson, said the network had never considered putting Simpson on the show, according to Reuters.
So, there's a chance Trump may have made all of this up -- and it definitely wouldn't be the first time he's fibbed.
Trump and Simpson have a long history.
In October 1993, Trump and Simpson were photographed together at an event that occurred at Harley Davidson Cafe in New York City, according to New York Daily News.
Ivanka Trump, the president's daughter, was also in attendance and can be seen in the photo (in the bottom right corner).
Simpson also attended Trump's wedding to Marla Maples in 1993, according to US Weekly, where he reportedly said, "I think everybody in the country believes maybe their relationship can work, if this relationship can work."
Despite the ruling, Trump has his own opinions.
When Simpson became embroiled in the "trial of the century," which occurred across 1994 and 1995, where he was accused of allegedly murdering his ex-wife and her friend, Trump didn't make public comments about it. At the conclusion of the Simpson trial, Simpson was found not guilty of the murders.
One of the only times Trump addressed the trial occurred during a 2004 interview on the Howard Stern Show, when Trump recalled a time he encountered Simpson and his wife at a restaurant in Los Angeles following the '94-'95 trials.
Trump claimed Simpson came up to speak with him, which angered his wife, and laughingly said to Stern, according to CNN, "So, he decided obviously to kill her." Trump cracked the joke despite the fact that Simpson was ultimately found not guilty in the infamous murder trial, but Trump later suggested he'd committed the killings in a tweet.
This, combined with the fact he told Stern he doesn't like people who "kill their wives" while talking about Simpson, seems to illustrate that Trump may think the former football star is guilty, though it's important to reiterate that Simpson was tried and found not guilty for the deaths of Brown and Goldman in a court of law.
Elite Daily has reached out for comment from Trump, but did not hear back at time of publication.
Trump seems to have restrained himself for commenting on Simpson's upcoming parole hearing, and hasn't said anything about it... yet.
But, knowing him, there could be a tweet (or five) about Simpson at some point in the near future.