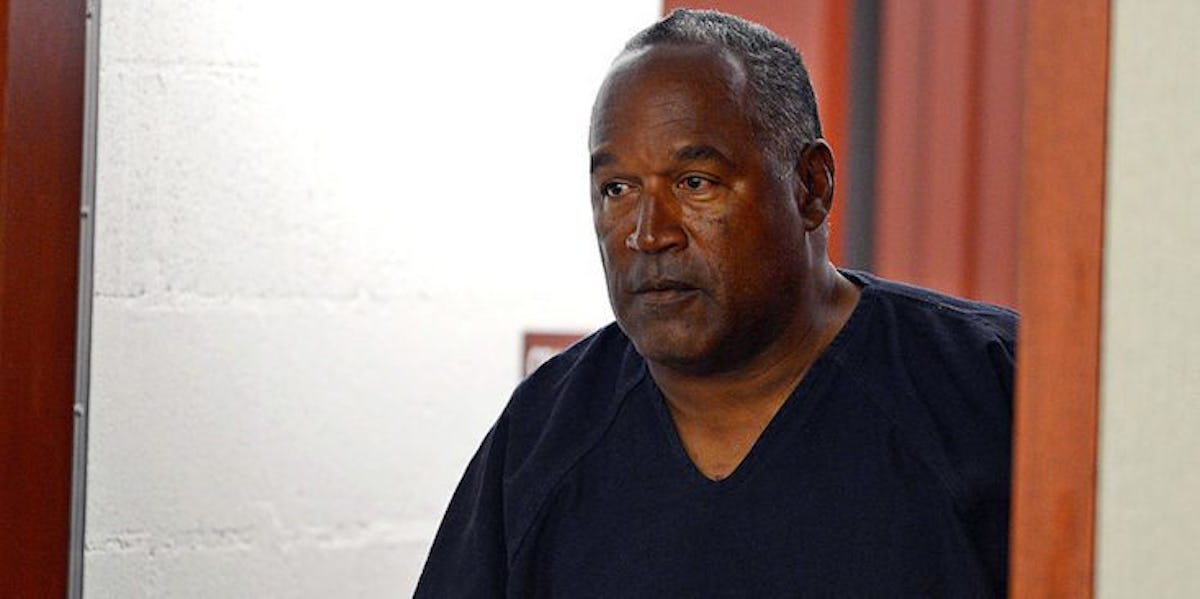 There Are Plenty Of Ways For You To Watch OJ Simpson's Parole Trial
Ethan Miller/Getty Images
After spending nearly nine years in prison, OJ Simpson is eligible for parole.
The Hall of Fame running back has a parole hearing in Carson City, Nevada on Thursday, July 20, and the whole shebang is set to be televised.
If all goes well, Simpson would be released as early as October, CNN reports.
The parole hearing won't be a repeat of the "trial of the century," but it's clear some TV networks are hoping to recapture at least some of the hype surrounding the infamous mid-90s court case.
If you're interested in tuning into the parole hearing, there are plenty of ways to watch.
Simpson will appear at the hearing through a video call from Lovelock Correctional Center, according to Page Six.
ESPN's Outside the Lines will be airing a 90-minute special on it at 1 p.m. ET, Sports Illustrated reports, which builds on the network's Oscar-winning documentary, OJ: Made In America.
If you're looking for a more controversial take on the parole hearing, you can watch Mark Fuhrman on Fox News Channel.
According to Variety, Fuhrman will offer "contributions and analysis" for the network's coverage of the parole hearing.
Fuhrman, a former police officer, was intricately involved in the trial that took place across 1994 and 1995 in which Simpson was found not guilty of murdering his ex-wife, Nicole Brown Simpson, and her friend Ron Goldman.
The ex-cop generated controversy during the trial when he said he had never used the n-word, but audio of him saying the word was discovered. Simpson's defense team also alleged Fuhrman had planted evidence, including the infamous glove. Fuhrman has repeatedly denied planting evidence and claims that he is not racist and only used the n-word because he was consulting on a screenplay.
Fuhrman was indicted on perjury charges as a result of saying he had never used the n-word. He pleaded no contest (which is not an admission of guilt) and was sentenced to three years' probation.
Apparently, Fox News Channel thinks viewers will benefit from Fuhrman's analysis of the parole hearing.
The parole hearing will also reportedly be televised by NBC News.
The former football star is apparently nervous about all of the media attention.
Jeffrey Felix, a former Lovelock prison guard who wrote a book called Guarding the Juice, apparently still talks with sources in the prison close to Simpson.
Speaking with Emily Smith at Page Six, Felix said Simpson "thinks all this media hype is going to screw with the parole board and put pressure on them to keep him locked up."
At the same time, Simpson has reportedly been on his best behavior while behind bars, which gives him a strong chance of gaining parole, ABC News reports.