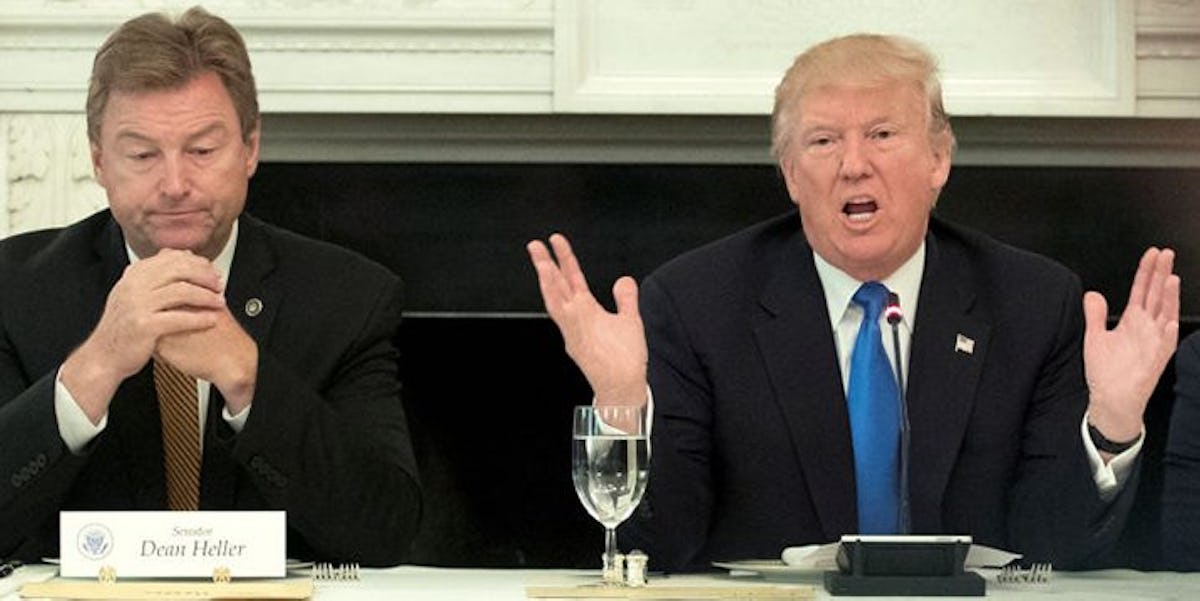 Trump Shades GOP Senator About Health Care In Awkward Video
Michael Reynolds - Pool/Getty Images
He did it literally in front of his face.
During a White House luncheon held for Republican senators to discuss healthcare, President Donald Trump playfully roasted Nevada senator Dean Heller in a deviation from his seemingly prepared remarks on Wednesday, July 19.
Trump singled out the senator, who has been one of the few members of his party opposed to the GOP's latest healthcare bill, and told him,
[He's] the one we were worried about. You weren't there. You're going to be.
The president then joked about the prospect of Heller losing during next year's midterm elections if he doesn't side with other Republicans. Trump said,
Look, he wants to remain a senator, doesn't he?
News cameras captured the awkward scene.
The opposition of Heller, alongside senators Rand Paul, Susan Collins, and others, led to the first delay of the Better Care Reconciliation Act. The BCRA is the Senate's version of the Affordable Health Care Act, the House of Representatives' bill crafted to repeal and replace the Affordable Care Act, aka Obamacare.
Trump's White House lunch on Wednesday, July 19, was part of an effort regroup Republicans senators and help secure the 50 votes needed to pass the BCRA.
The president also asked the senators not to take their August vacation until a solution to the party's repeal efforts could be agreed upon. According to CNN, Trump told the group at the White House,
People are hurting. Inaction is not an option and frankly, I don't think we should leave town unless we have a health insurance plan, unless we can give our people great health care because we are close, we are very close.
Congress members are expected to leave Washington D.C. in mid-August for recess, and the president is expected to have a stay away from the White House as well, per CNN.
Whether or not they all leave with a successful healthcare vote to their names remains to be seen.