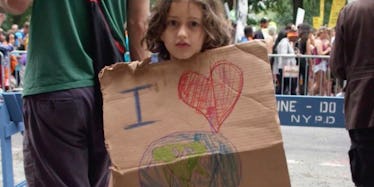 Trump Needs To See This Emotional Trailer About The Importance Of Climate Action
YouTube
On April 29, thousands of people are planning to show up in Washington, DC (as well as 85 satellite cities) for the People's Climate March.
They plan on protesting the Trump administration's response to progress the Obama administration made when it comes to taking care of our planet.
Trump, who once claimed climate change was created by the Chinese to make the United States less competitive, rolled back Obama's climate and water rules in one of his first executive actions.
Gaining support for a cause that is basically "hey, lets stop messing up the Earth???" should be a no brainer, but the Sierra Club added a little more inspiration recently when they released a powerful video that looks like it should be a blockbuster movie or at least a documentary narrated by Morgan Freeman.
Paul Gestos, the national coordinator of the People's Climate March, told Mashable,
We're saying, 'We resist you, and in fact there's a better way to go forward.' We have the solutions, and our solutions will create a more fair, clean, renewable energy economy.
While it wasn't Morgan Freeman, the video was narrated by other Hollywood stars, Chloë Sevigny and Joseph Gordon-Levitt, and was directed by Darren Aronofsky (AKA Jennifer Lawrence's boyfriend).
The day of the march, April 29, is also President Donald Trump's 100th day in office.
Certainly a man obsessed with crowd size may be a little disappointed the crowd who flocks to DC on that day will not be there to cheer him on.
The People's Climate Movement's mission reads,
On the 100th Day of the Trump Administration, we will be in the streets of Washington D.C. to show the world and our leaders that we will resist attacks on our people, our communities and our planet.
You can find out where protesters are meeting near you here.
Citations: This slick, emotional trailer isn't for a Hollywood movie. It's for a protest. (Mashable)