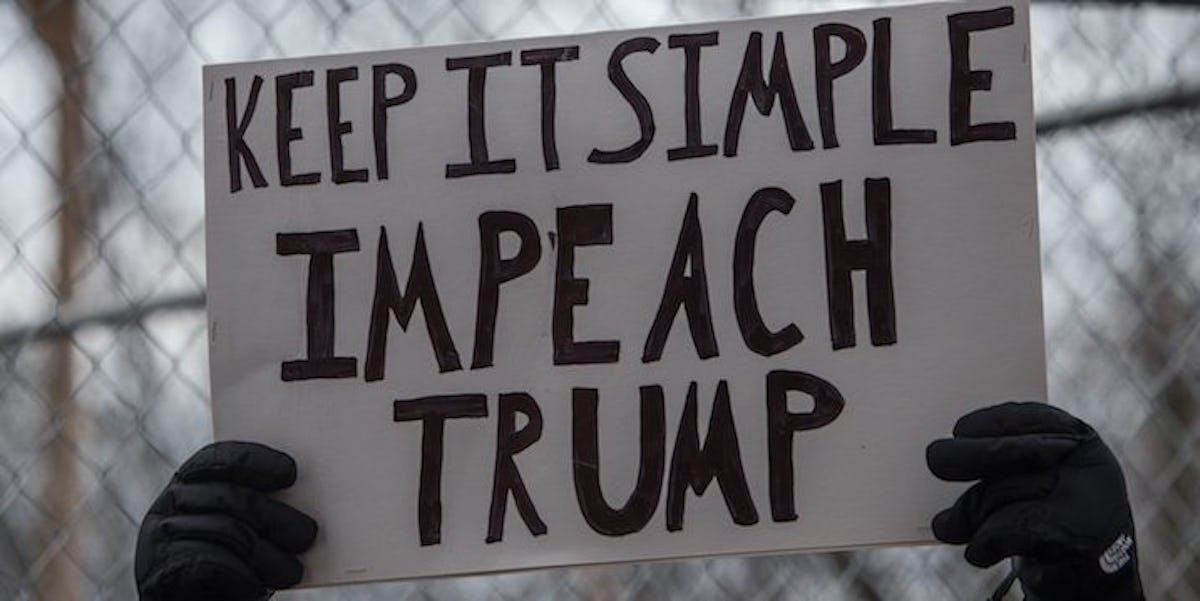 Trump's Impeachment May Be A Reality, Thanks To This City's Latest Allegations
REX/Shutterstock
Your Donald Trump impeachment party has taken a tiny step closer to actually becoming reality.
The city of Cambridge, Massachusetts, has passed a resolution calling for the launch of an impeachment investigation into the president.
It joins a number of other cities, including Richmond, Virginia, and Berkeley, California, who have also made a call to action.
Cambridge City Council passed their strongly-worded resolution on Monday night.
It argues Trump's alleged violations of the US Constitution "undermine the integrity of the presidency, corruptly advance the personal wealth of the President, and violate the public trust," ABC News reported.
The resolution adds,
From the moment he took office, President Trump was in violation of the Foreign Emoluments Clause and the Domestic Emoluments Clause of the United States Constitution.
The resolution, a largely symbolic show of opposition to the Trump regime, was passed by Cambridge City Council by a vote of 7-1, with one member abstaining.
It urges the House of Representatives to look into whether Trump's business interests violate the constitution.
The clauses being called into question state the president can't profit from foreign or state governments through business ties.
However, Trump's lawyers previously claimed potential conflicts of interest have been taken care of.
Despite the FBI's ongoing investigation into alleged Russian interference in last year's election, impeachment remains little more than a pipe dream right now -- no matter how low his approval ratings are.
For it to actually happen, it needs majority support from representatives to pass a Senate trial, and then for two-thirds of Senate to support it.
Right now, most of Congress are Republicans, and though some prominent figures have been openly critical of Trump, it's unlikely a majority will betray him.
But that hasn't stopped several cities from voicing their opposition to his administration.
Cambridge, which has a population of about 107,000, voted for Hillary Clinton in last year's election.
Citations: Massachusetts city council to vote on Trump impeachment resolution (ABC News)