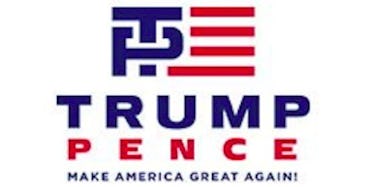 Everyone Keeps Making The Same Dirty Joke About Trump's New Campaign Logo
Twitter
Donald Trump announced Indiana Governor Mike Pence as his vice presidential pick for this year's election.
Trump was supposed to make this announcement during a press conference on Friday morning. On Thursday night, he announced he would be postponing the press conference due to the Nice terror attack. But for whatever reason, he decided to drop the news in a tweet, of all places, on Friday morning.
The press conference will be happening on Saturday morning. Yours truly has given up trying to figure out Trump's head.
Regardless of the method, the announcement has been made, and Mike "hurt women's health and discriminate against gay people" Pence is Trump's running mate.
After the Twitter announcement was made, the Trump campaign sent out an email unveiling the new official logo for the running mates.
About 20 seconds later, everyone and their mother realized something strange about the Trump-Pence logo. Specifically, this:
Based on the logo, it appears that Trump and Pence have a very special relationship that goes beyond just running mates.
And off we went to the Twitter joke races:
Someone actually designed this logo, with a shaft penetrating a p-hole pic.twitter.com/iFZ5sRkoI1 — Dana Schwartz (@DanaSchwartzzz) July 15, 2016
https://t.co/Q8j24gUh1D — Carl Franzen (@carlfranzen) July 15, 2016
People also took a moment to recognize the irony of what this image suggests. Pence signed the "Religious Freedom Restoration Act" last year, which allowed people to discriminate against gay people, like by refusing them service at shops.