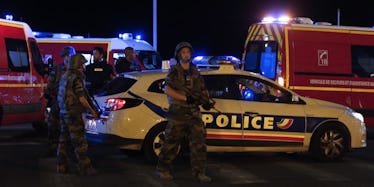 Nice Terror Attack Death Toll Rises, French State Of Emergency Extended
REUTERS
Update 11:00 AM ET:
In addition to the 84 people killed, 188 patients have been admitted to the hospital, 48 are in critical condition and 25 are in intensive care.
Update 9:12 AM ET:
At least 10 children were killed in the attack, and around 50 have been hospitalized. French President Hollande extended the state of emergency put in place following the Paris attacks.
Update 7:00 AM ET:
The death toll now stands at 84, officials have confirmed.
Update 11:11 PM ET:
According to Reuters, French President Francois Hollande has confirmed the Nice attack to be "undeniably of a terrorist nature."
Update 10:52 PM ET:
According to AP, the French interior minister has stated that the death toll has now risen to 80 people. 18 are critically injured.
Update 8:04 PM ET:
President Obama just released a statement on the attack.
Update 7:59 PM ET:
The death toll has risen to at least 70.
Update 7:39 PM ET:
According to AP, Nice Mayor Christian Estrosi reported that the truck used in the attack "was loaded with arms and grenades."
As the world is still reeling from far too many instances of violence and terror, a deadly incident occurred in Nice, France, late on Thursday night.
It's pretty safe to say people across the world, of all nationalities and creeds, are deeply saddened by this event and quite exhausted with this type of news.
We don't yet have all of the details, and this post will be updated as more information comes in. But here's what we know so far.
A truck drove into a crowd as spectators watched fireworks for Bastille Day, an important national holiday for France.
This has been referred to as an "attack."
The driver reportedly got out and started shooting after crashing into the crowd.
At least 60 people have been reported dead and 100 more injured.
The AP reports there were "bodies everywhere."
There is no hostage situation.
The driver was allegedly shot dead.
In the wake of this awful incident, French President Hollande is holding a crisis meeting.
President Obama has been briefed on the situation.
This story is developing.