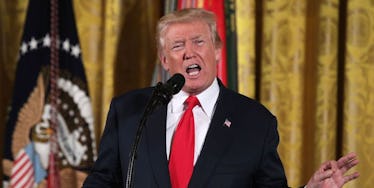 Trump Called New Hampshire A "Drug-Infested Den" And Twitter Is Crying
Alex Wong/Getty Images
During a phone call with Mexican President Enrique Peña Nieto in January, President Donald Trump called New Hampshire a "drug-infested den." A transcript of the call, made on Jan. 27, was obtained by the Washington Post and published on Thursday, Aug. 3. It shows a cringeworthy conversation between the presidents with a lot of conversation over "the wall."
Trump spent parts of the call telling Peña Nieto that he "cannot say ... to the press" that Mexico would not be paying for a border wall. That concept had been a major part of Trump's campaign during the 2016 presidential election.
Trump being Trump, of course, he had some strange asides throughout the conversation, which is how New Hampshire got dragged into this. Trump was complaining about illegal drugs coming into the U.S. from Mexico, and he reportedly said,
We have a massive drug problem where kids are becoming addicted to drugs because the drugs are being sold for less money than candy. I won New Hampshire because New Hampshire is a drug-infested den.
Now, there are so many problems with this it's almost hard to know where to start. All of Twitter went wild when this quote was spotted among all the other ridiculous quotes.
New Hampshire, along with a block of the northeast of the United States, was won by Hillary Clinton during the 2016 presidential election. So, yeah, FAKE NEWS, etc.
Although, as some have pointed out, Trump did win New Hampshire in the primary during the race to become the Republican nominee in 2016, so maybe that's what he was referring to.
Second of all, drug epidemics are probably not something someone should be bragging about as a winning tactic.
This particular argument was brought up on Twitter by New Hampshire Senator Maggie Hassan.
America is in the midst of a deadly opioid epidemic, and claiming it as a leverage point for personal victory is insensitive to the lives lost to it.
Unlike Trump's claims that a major drug problem is because of drugs coming in from Mexico, a lot of the opioid epidemic is actually because of legal prescription pharmaceuticals.
Third of all, the characterization of Mexico as a "drug-infested den" is so over-the-top it sounds like a joke.
At the end of the day, it's just another Trumpism for the history books.