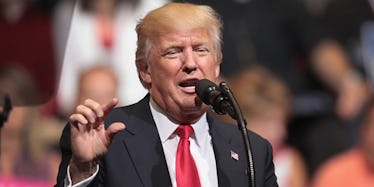 Trump Bragged About Signing Bills In Tweet, But He Hasn't Really Done Much
Scott Olson/Getty Images
President Donald Trump bragged again about his law-making capabilities on Twitter the morning of Friday, June 23.
Echoing a prior boast, Trump touted the amount of bills he has signed into law.
However, while the White House has touted the president's "historic" accomplishment -- and while Trump himself has implied he's gotten more done than others at similar points in their presidencies -- an analysis from NPR shows what Trump has actually accomplished: Not much.
The bulk of Trump's work has been measures that reverse things former President Barack Obama tried to do. Other bills signed, meanwhile, have been of modest and narrow import, like the Department of Veterans Affairs Accountability and Whistleblower Protection Act of 2017, which impacts how easily employees at the VA can get fired.
In other words, Trump has yet to achieve a signature moment legislatively; i.e. working with Congress to get a major bill through the House and Senate, and then signed into law.
Both Trump and the White House have implied otherwise.
During a lunch last week with members of Congress, the president said,
We passed and signed 38 pieces of legislation, which nobody likes to talk about. I think probably seldom has any President and administration done more or had more success so early on, including a record number of resolutions to eliminate job-killing regulations.
The president's tally of bills signed, however, is not a rarity. As NPR points out, both former presidents Bill Clinton and his predecessor George H.W. Bush signed over 40 bills into law at similar points of their tenures.
Trump could sign his first, major piece of legislation soon, if the GOP's efforts to pass a new healthcare bill are ultimately successful.
For the time being, though, the president's administration is still lacking its first signature piece of legislation, particularly one that fulfills a key campaign promise -- like a bill that secures funding for a new border wall or a bill that achieves tax reform.
That all means that yet another one of Trump's boasts was a little bit off. In other news, water is wet.